Indian startup Akasa Air has taken delivery of its first aircraft, a Boeing 737 Max 8, at a ceremony in Seattle, Washington.
"This is indeed a symbolic milestone in the journey of Akasa Air, bringing us one step closer to the process of obtaining our Air Operator's Permit and leading to our commercial launch," says Akasa founder and chief executive Vinay Dube.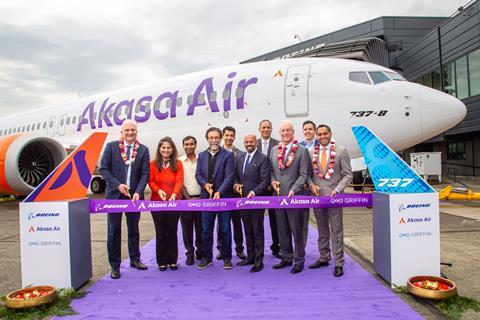 "While we are extremely happy with this achievement, we want to keep ourselves focussed on the task of delivering on our vision to transform India's air transportation ecosystem, support the nation's economic growth engine and help fellow Indians chase their dreams."
The aircraft is due to arrive in Delhi next week. It is the first of 72 737 Max jets that the new Indian carrier has on order. The order comprises a mix of Max 8s with 189 seats and high-capacity Max 8-200s with 197 seats.
The new low-cost carrier will receive 18 jets by March 2023, with 54 to follow over the subsequent four years.
Dube also thanked Boeing and lessor Griffin Global Asset Management for their support. Akasa recently entered a sale-and-leaseback for five Boeing 737 Max 8s with Griffin.
In an interview with FlightGlobal at the beginning of 2022, Dube said that Akasa will initially focus on operating flights from major Indian cities – known as 'metros' locally – to what are known as 'tier-two' and 'tier-three' cities.
"We are honored to deliver the first 737 MAX to Akasa Air, India's newest airline focused on making air travel inclusive and affordable for all," says Boeing Commercial Airplanes president and chief executive Stand Deal.
"Flying an advanced, environmentally progressive 737 MAX fleet with greater fuel efficiency and lower operating costs will enable Akasa Air to profitably serve the Indian market while passing those savings on to its passengers."