Indian low-cost carrier IndiGo is close to securing wet-lease capacity, as global supply-chain challenges weigh on aircraft deliveries and maintenance.
Speaking during a second-quarter earnings briefing on 4 November, IndiGo chief executive Pieter Elbers said that alongside extending the leases of some of its Airbus-dominated fleet, "a possible wet-lease operation" is in the works.
Asked directly whether the aircraft involved are widebodies – a development that would be a significant departure for the all-narrowbody operator – he does not confirm or deny the idea, only saying that IndiGo is "in the process of finalising" a wet-lease deal.
Recent reports have suggested that IndiGo will wet-lease widebody jets from codeshare partner Turkish Airlines.
The move comes as supply-chain challenges "are forcing us to look at different ways and means to make sure we have the capacity to operate", Elbers says.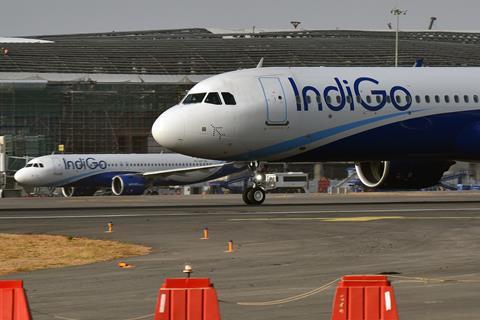 The issues mean IndiGo is offering no guidance on its 2023 capacity, while noting it expects to be 13-17% up on pre-Covid levels for full-year 2022.
Asked for how long he expects the supply-chain challenges to continue, Elbers suggests OEMs might be better placed to answer, but states: "It will not be solved tomorrow; it will take some time."
Cirium fleets data indicates IndiGo has more than 500 aircraft on order – nearly all of which are Airbus A320neo-family jets, alongside 15 ATR 72-600s.
It had 279 aircraft in service as of 30 September this year, comprising 149 A320neos, 68 A321neos, 26 A320s, 35 ATR turboprops and a single A321 freigther.