Low-cost carrier IndiGo reported a net loss of Rs15.8 billion ($192 million) for the three-month period ending 30 September, as currency losses and fuel costs weighed on the operator's performance during its seasonally weakest quarter.
"Depreciation of the rupee and high jet fuel prices continue to be the major headwind to our profitability and remain a concern," said the Indian carrier's chief executive Pieter Elbers during a fiscal second-quarter earnings call on 4 November.
The adverse currency impact amounted to Rs12 billion, IndiGo says, marking a reversal of fortunes from the same quarter in 2021, when the net loss of Rs14.4 billion included a small, positive effect from currency. Absent the currency impact, the airline would have reported a net loss of Rs3.8 billion for the most recent period.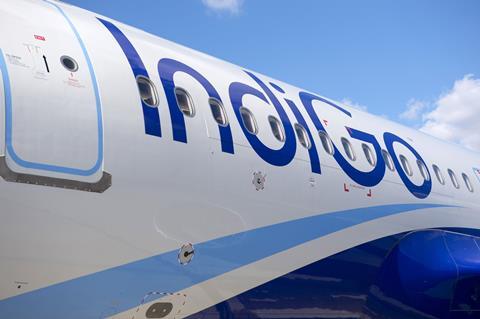 The result marks a reversal in fortunes from the Rs3.6 billion net profit IndiGo reported for its fiscal first quarter.
Second-quarter revenue from operations increased by 123% year on year to Rs124 billion, IndiGo states, on yields up 21% and load factors eight percentage points higher at 79.2%.
IndiGo notes that it increased its international capacity by 20% quarter-on-quarter, despite the seasonally weak nature of the period.
Indeed, overall capacity exceeded 2019 levels for the second quarter running, with passenger numbers some 76% up on 2021 levels at nearly 20 million.
"This is the second consecutive quarter wherein we have operated at higher than pre-covid capacity," says Elbers.
"In spite of a seasonally weak quarter, we witnessed relatively good yields with strong demand across the network.
"However, fuel prices and exchange rates have adversely impacted our financial performance."
Fuel costs increased by 86.7% year on year, the airline says, with fuel cost per available seat kilometre (CASK) up by 79.8%.
CASK excluding fuel was down 11.3% amid the higher capacity deployed year on year.
But overall CASK increased by 1.3% quarter on quarter, IndiGo says, primarily due to higher fuel costs.
Elbers insists the carrier is on "a steady path to recovery", noting "enormous opportunity" in domestic and international markets.
"With an industry challenged by global supply chain disruptions, we are working on various countermeasures to accommodate this strong demand," he states.
"We have an unparalleled network presence enabling air travel to 74 domestic and 26 International destinations; we will continue to accelerate and build on this."