The parent company of Indonesia AirAsia (IAA) has issued a profit warning for the current quarter, attributing it to new lease accounting standards and projected declines in ticket sales due to the coronavirus outbreak.
In an Indonesia Stock Exchange disclosure, AirAsia Indonesia discloses that implementing the new standard will result in a 7% increase in interest expense on lease liabilities and depreciation on right-of-use assets, as well as raise the company's debt ratio.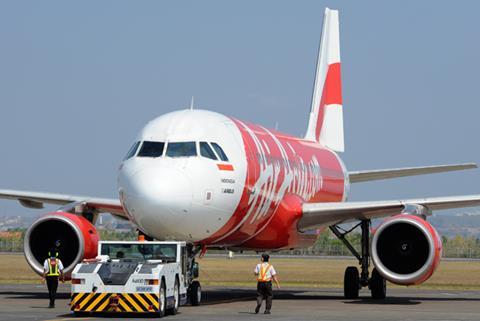 As a result, the company plans to seek a waiver on the debt ratio restrictions imposed by creditors but stressed that this will not impact its financial position or ongoing obligations.
Meanwhile, the company notes that the coronavirus outbreak has led to a decline in projected ticket sales, with load factors on flights operated by IAA now 13% lower than its "average optimum level". However, it did not quantify the decline or specify the monthly load factors of IAA-operated flights.
Based on an investor presentation by AirAsia Group discussing its 2019 financial results, Indonesia AirAsia saw passenger numbers rise 52% to 7.97 million while seat load factor gained two points to 84% during the year.
The Indonesian airline posted Rp1.12 trillion ($77.8 million) in earnings before interest, taxes, depreciation, and amortisation (EBITDA) in 2019, more than double the Rp497 billion figure in 2018. Revenue jumped 79% to Rp6.73 trillion. It also narrowed net losses by 60% to Rp185 billion.
AirAsia Indonesia is set to release its results for the year ended 31 December 2019 this month.