Panellists at an aviation roundtable have called for unified efforts to speed up – and sustain – recovery in the sector which has been battered by two years of the coronavirus pandemic.
The panel discussion, held at the inaugural Changi Aviation Summit in Singapore, focuses on reviving the aviation sector, particularly for an Asia-Pacific region which has been slower to recover compared to other parts of the world.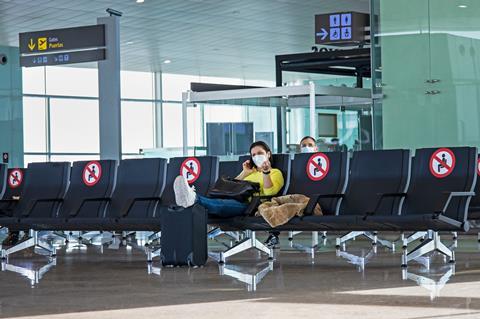 Present at the panel were two transport ministers – Budi Karya Sumadi from Indonesia and Wee Ka Siong from Malaysia – Singapore Airlines group chief Goh Choon Phong, European Commission director general for mobility and transport Henrik Hololei, as well as Nompumelelo Mpofu, chief of Airports Company South Africa.
SIA's Goh says that while the pandemic has brought out "different tools to manage future situations" like a pandemic – including contract tracing software and testing regimes – it would be timely to "streamline" these solutions.
"I think we should take some time to actually look through all of these tools and to see how we can coordinate at a global level to address …a future pandemic of similar nature in a more effective manner," says Goh.
Hololei, meanwhile, notes that governments "can…and should really cooperate and work together" in areas including entry and testing requirements. A key factor underpinning recovery would also be driving up the rate of vaccinations, a move Hololei says is "most important…to get rid of [travel] restrictions".
Concurring, Malaysian transport minister Wee calls for "alignment" among countries in general pandemic management protocols, especially travel-related curbs.
Noting that the air transport sector is a key economic driver in several countries, including that of Malaysia's, Wee adds: "We have to build up the confidence within the government, but also for our industry partners, and it goes beyond the aviation sector. We need to have have some kind of understanding…of consensus in the region."
Their comments come as Asia Pacific finally sees clear signs of recovery, albeit at a slower rate. IATA data shows that Asia-Pacific international traffic has recovered to about 17% pre-pandemic levels. While it is a marked improvement from the 7% of pre-pandemic interantional traffic carried in 2021, the industry association notes it is far behind regions like Europe and North America, which have hit 60% pre-pandemic traffic.
IATA director general Willie Walsh, in a keynote address at the summit, also called for unity in pursuing recovery.
"[All] segments of the industry now need to work together to ensure that we can capitalise on this strong underlying demand. Airports need to be ready for the increase in passenger numbers. And we would ask governments to support airlines and airports as we try to recover our network," Walsh says.
To this end, transport ministers from seven Southeast Asian nations have pledged to collaborate and support their respective aviation sectors in recovering from the pandemic.
The document, adopted at the Changi Aviation Summit, acknowledges the "significant impact" wrought by the pandemic and the "resulting effects on the economic and social development, and the disruption to connectivity in the region and beyond".
The ministers also pledge to work together on developing a single aviation market for all Southeast Asian nations, as well as strengthen air connectivity from the region.