Anyone expecting 2023 to provide a breakthrough moment for alternative propulsion systems is likely to be sorely disappointed.
That is, in no small part, due to the maturity, or otherwise, of the various technologies under development.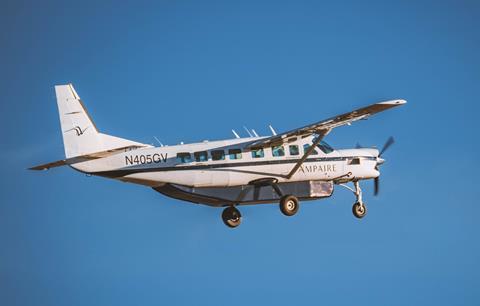 While none of the powertrain technologies being considered are in their infancy – electric, hybrid and fuel cell systems are all in service in the automotive world – their adaptation to the aerospace market will take time.
Weight and durability issues will need to be overcome, and regulators convinced of their safety; a particular challenge when rules may need writing from scratch.
Although developers say the technologies are understood and there is a clear path to their application in aerospace, these novel propulsion systems are unlikely to enter service before 2025.
But if there is no eureka moment in 2023, neither will it be a year of stasis.
In fact, several developers in 2022 demonstrated significant progress, with Ampaire (hybrid) and Eviation (full electric) both chalking up first flights, while ZeroAvia (fuel cells) is closing on the milestone.
More will undoubtedly follow in 2023 as design and development activities progress.
Funding is crucial too: expect to see more money arrive in the segment as investors bank on aviation decarbonisation as a solid bet. And do not rule out more airlines jumping into the fray as well, either by placing orders or becoming shareholders.
What is interesting to observe is the focus by many propulsion system developers on older aircraft designs for their initial go-to-market products.
At an extreme, that has seen Vancouver-based operator Harbour Air retrofit a Magnix electric powertrain onto a 1950s-era De Havilland Canada DHC-2 Beaver – a curious champion for the next-generation of aerospace propulsion systems.
CONVERTED CARAVAN
However, others are focused on a more modern – in so much that it dates from the 1980s – aircraft in the form of the Cessna Caravan. The venerable turboprop type is the baseline aircraft for at least four different conversion programmes from Ampaire, Dovetail Electric Aviation, SurfAir, and ZeroAvia. Magnix too has tested its electric motors on the utility type.
Most of the above also have their eyes on follow-on programmes as they look to scale their technologies, with the DHC-6 Twin Otter and Beechcraft King Air already emerging as favourites.
But what is unclear is the degree of market acceptance any of these technologies will attain. Developers make the case that sub-regional aviation foundered due to the high operating and maintenance costs of turbine-powered aircraft, something their novel propulsion systems will address. However, until there is real-world operational data much will remain unknown.
Scalability will also need to be tested. A number of big players – GKN and MTU, for instance – believe that fuel cells can be used to power an aircraft with up to 100 seats, but we are not yet at that point.
Nonetheless we are likely to gain a better indication of the technology's potential in 2023 as Universal Hydrogen pushes ahead with flight testing a Dash 8-300 and ATR 72-500 adapted to run on fuel cells.

Dominic Perry is deputy editor of Flight International but also contributes extensively to flightglobal.com. Although specialising in the coverage of the helicopter industry, he has written on most topics in aerospace – be they commercial, defence or business aviation. In addition, there has been an increasing focus on the decarbonisation of the industry and zero-emission flight initiatives.