ITA Airways appears to have taken a further step towards securing a deal with would-be investor Lufthansa after the Italian carrier's board approved a business plan "shared" with the German airline group.
Lufthansa began exclusive talks with Italy's finance ministry in January over its bid to take a minority stake in ITA, with a view to potentially acquiring the remaining shares at a later date.
The Italian carrier, established to replace Alitalia in October 2021, today states that its board of directors "has approved the business plan already shared with Deutsche Lufthansa".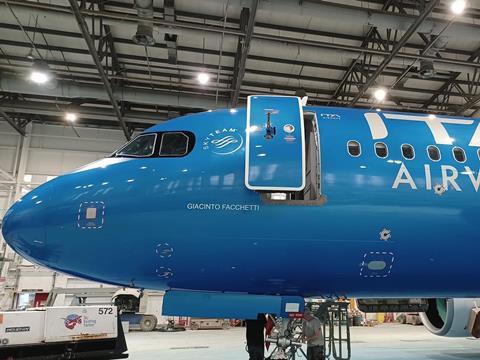 ITA on 29 March disclosed that it had made a full-year net loss of €486 million ($527 million) for 2022, citing high fuel costs and the ongoing impact of the pandemic.
Speaking on the sidelines of the A4E Aviation Summit in Brussels on the same day, Lufthansa group chief executive Carsten Spohr said he is confident a deal can be reached on taking an ITA Airways stake before the exclusivity period ends next month, but says the valuation must reflect the full-year losses.