Japan Airlines has brought forward the retirement its fleet of older Boeing 777s powered by Pratt & Whitney PW4000 engines by a year, citing "no known report" to resume operations of the type.
JAL on 5 April says the 777s were originally scheduled to exit its fleet by March 2022, but have been retired since March this year.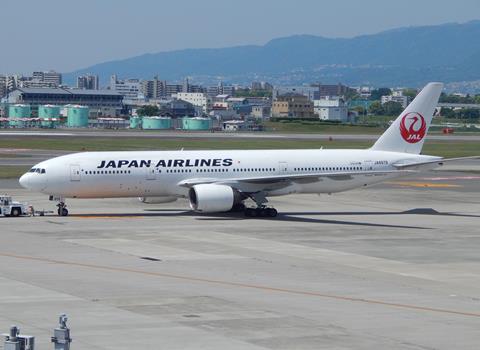 "As there are no known report to resume the operation of P&W equipped Boeing 777, and it is hard to foresee the situation as of today, JAL has decided to accelerate the retirement of all P&W equipped Boeing 777s," the carrier states.
The Oneworld carrier's 13 examples, comprising nine -200s and four -300s, are currently grounded, following two engine failure incidents involving 777s equipped with PW4000 engines.
On 20 February, a United Airlines 777-200 (registration N7772UA) suffered a major failure after taking off, shedding debris over a residential area, including the engine's nose cowl that landed feet from a house.
The incident, which led to Japan grounding all PW4000-powered 777s, came more than two months after a similar incident involving a JAL 777 flying from Okinawa's Naha airport to Tokyo Haneda.
The aircraft, a -200 registered JA8978, suffered a significant PW4000 failure, involving the loss of a large panel and fan blade damage.
JAL's retired 777s had been serving domestic routes prior to the grounding. The carrier previously announced plans to retire the type, with the -200s to be retired by December 2021, and the -300s by March 2022.
To mitigate any capacity and frequency changes, the carrier states it has introduced the newer Airbus A350-900 aircraft on domestic flights out of Osaka Itami airport, and will move an unspecified number of aircraft meant to operate international flights to its domestic network.
Apart from JAL, All Nippon Airways is the only other Japanese carrier to operate PW4000-powered 777s. The carrier had also previously stated plans to start retiring older 777s.
Other operators of 777s equipped with PW4000 engines include Korean Air, Asiana Airlines, as well as Jin Air.