Japan Airlines returned to the black in its full-year financial results, buoyed by a strong showing in domestic travel demand and "steady progress" in international recovery.
The Tokyo-based airline and its subsidiaries posted a Y65 billion ($473 million) operating profit for the year to 31 March, reversing the Y235 billion operating loss in the year-ago period.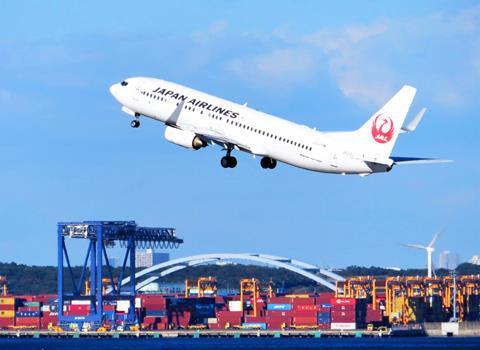 The improved financial performance comes as the group doubled its revenue year on year, to around Y1.4 trillion. International passenger revenue on mainline operator JAL saw the largest increase: up six-fold year on year, as Japan eased its border restrictions gradually in the second half of 2022.
"Furthermore, we have responded flexibly to changes in the business environment, including the establishment of flight schedules that offer convenient transit at [Tokyo] Narita Airport, aimed at capturing transit demand particularly between Asia and North America, where demand is recovering quickly," JAL adds.
The airline flew 4.3 million international passengers in the year to 31 March, up four-fold year on year, but still below half of the passenger volume seen in pre-pandemic 2019. International capacity was up 67% against the year-ago period, but is only about 71% pre-pandemic levels.
Domestic revenue for the full-year nearly doubled year on year, with JAL noting "demand had recovered steadily, especially for tourists". The carrier flew about 30.1 million domestic passengers, up 85% year on year, but about 83% that of pre-pandemic levels.
Group operating costs rose 43% to Y1.3 trillion, led mainly by a sharp increase in fuel costs. JAL notes that despite the increase in fuel-related charges, it was able to bring down fixed costs for the full-year.
JAL eked out a full-year net profit of Y34.4 billion, reversing the Y178 billion loss reported in the year-ago period.
The airline says that while Japan had been slower in reopening its borders, travel demand "has steadily recovered since the beginning of the current fiscal year".
"Despite some uncertainties in the external environment such as the impact of the Russia-Ukraine situation, concerns about a global economic downturn, and volatile markets including foreign exchange and fuel prices, we are making steady progress toward medium to long-term growth," it states.
The airline forecasts another profitable year for the 12 months to 31 March 2024, with an EBIT of Y100 billion and a net profit of Y55 billion. It predicts full-year revenue to be around Y1.7 trillion, up 20.5% from the previous financial year.