Japan Airlines will acquire Spring Airlines Japan to become a consolidated subsidiary, as part of a move to streamline its low-cost units and tap into future growth potential.
JAL, which currently holds 5% shareholding in the joint venture with Chinese low-cost giant Spring Airlines Group, hopes to complete the acquisition by June this year.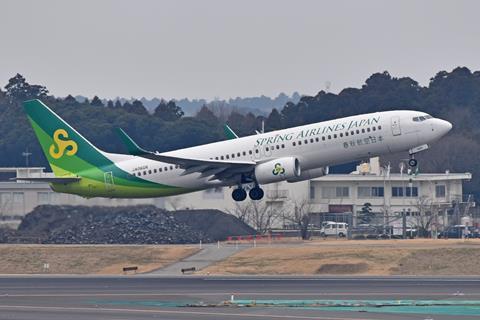 While the Oneworld carrier did not elaborate on how much it was set to invest, it states that it will work with 48% shareholder Spring Airlines to complete the deal.
Japanese media reports have indicated that JAL will boost its current stake into a majority stake. The carrier in late April confirmed that it would "strengthen" its investment in the low-cost unit.
In its medium-term business update on 7 April, JAL says Spring Airlines Japan will be a "China-focused" operation, with the hopes of attracting inbound visitors from China, while "leveraging" Spring Airlines' strong brand recognition in China.
The investment into Spring Airlines Japan will help the airline "capture the first inbound demand in China, which is expected to recover in the future", it adds.
In the same business update, JAL shed more light on its broad LCC strategy, which it says will target "revenue growth in low-yield markets, with steady recovery and solid growth potential".
The JAL stable of low-cost carriers also includes medium-to-long-haul unit Zipair and Jetstar Japan.
Zipair, which began operations in September amid the coronavirus pandemic, will "create low-yield travel demand" on routes to Asia, Hawaii, as well as the US West Coast.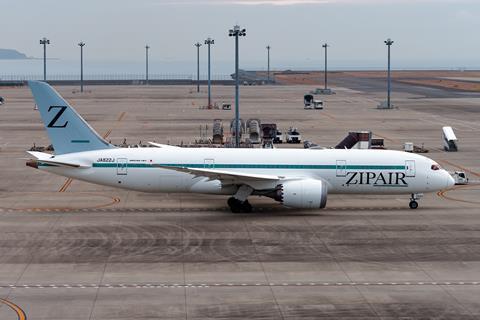 JAL adds that the airline will tap into bellyhold space on its fleet of Boeing 787s as an additional revenue stream. When Zipair commenced operations, it flew cargo-only flights on its 787s, before beginning passenger flights in October.
The carrier will take up to 10 787s by fiscal year 2024, which begins on 1 April 2024, with the target to take two aircraft per year.
As for Jetstar Japan, JAL says will be focused largely on the domestic network — by "capturing tourism demand, mainly through…the Tokyo metropolitan area.
JAL also hinted at a potential restructuring of the Jetstar Japan business, through a review of the latter's fleet and network. It will also work with joint venture partner Qantas Group to "strengthen marketing and revenue management".