Japan Airlines is looking to raise nearly Y168 billion ($1.6 billion) in share placements, part of which will go toward fleet development, as well as to its newly-formed low-cost unit Zipair Tokyo.
The Oneworld carrier will issue more than 90 million shares, with nearly two-thirds to be offered in domestic placements.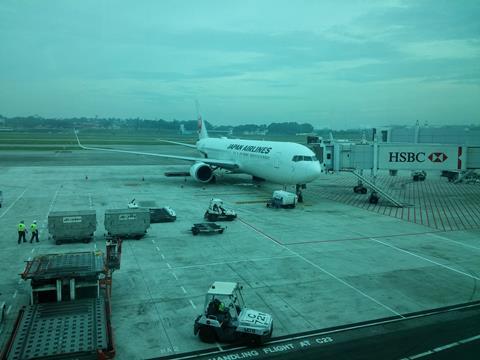 With the amount raised, JAL discloses that it will invest up to Y80 billion to "accelerate the reduction of [carbon] emissions and resolve social issues".
Elaborating, the carrier says net proceeds from the investment will go towards introducing the Airbus A350 widebody into its domestic operations, which it says is more fuel-efficient and produces lower emissions than the Boeing 777s it intends to phase out.
JAL in its half-yearly results disclosed that it would be retiring up to 24 older 777s from its fleet, in a bid to address what it called a "temporary demand downturn" amid the coronavirus pandemic. Cirium fleets data shows that JAL has six in service A350-900s, with 12 more on order.
Another Y15 billion from the share placements will go towards its business restructuring process, which will involve the beefing up of its low-cost business.
"Specifically, we intend to apply [Y5 billion] by the end of March 2023 to fund capital expenditures (aircraft revamping costs) for aircraft scheduled to be used by [Zipair Tokyo]," the carrier adds.
About Y10 billion will fund investments and loans from its joint-ventures Jetstar Japan, of which it owns 50%, as well as Spring Airlines Japan.
"Through the investments in and loans to Zipair Tokyo, Jetstar Japan and Spring Airlines Japan, we aim to promote management enhancement measures and to strengthen our business alliances, thereby realising the expansion of the JAL Group's LCC Business portfolio," JAL discloses.
JAL will also move about Y5 billion from the proceeds of the share placement to "respond to social needs" amid the coronavirus pandemic, which involves contactless and mobile services, as well as health and cleanliness services.
The remaining amount of proceeds will be used to pay interest-bearing liabilities by the end of March 2023, the carrier states.
JAL swung back into the red for the six months ended 30 September, reporting an operating loss of Y219 billion, as revenue declined 74% year on year.