Japanese operator Skymark Airlines rebounded to a full-year profit amid "remarkable recovery" in travel demand as Japan eased much of its pandemic curbs.
For the year to 31 March, the Tokyo-headquartered carrier posted an operating profit of Y3.45 billion ($25.4 million), significantly reversing the Y16.5 billion loss posted in the previous financial year.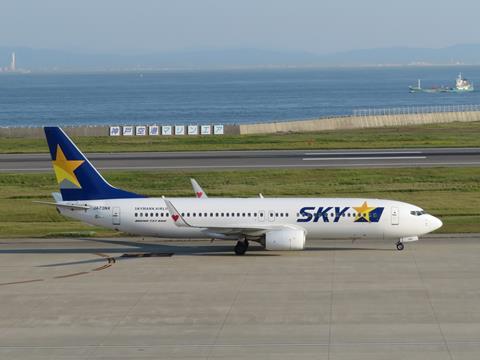 Revenue for the full-year grew 80% year on year to nearly Y85 billion, on the back of a rebound in passenger traffic. The airline carried over seven million passengers during the year, up almost 69% year on year.
Skymark notes that while the first half of the fiscal year saw weakened demand as much of Japan remained shut off to international travel. However, by October, and as Japan eased travel curbs, Skymark says travel demand picked up quickly: passenger numbers in the January-March quarter this year were nearly on par with pre-pandemic levels.
Operating expenses for the year rose about 28% to Y76 billion, with air transportation costs increasing the most as the airline ramped up flying.
The airline swung to a net profit for the year, at Y5.7 billion, compared to the Y6.7 billion net loss in the previous fiscal year.
In its outlook, Skymark says it expects passenger demand to return to pre-Covid levels in the current fiscal year, which ends on 31 March 2024.
"On the other hand, the company continues to face a number of challenges to deal with, including global inflation, a weak yen, and soaring crude oil prices due to Russia's invasion of Ukraine," it notes.
To this end, Skymark is re-looking its network, and "will consider new air routes in a diversified way". These include starting flights to regional areas in Japan to "meet the demand for business and tourism".
"The company will [also] actively engage in charter flights and other operations depending on the situation," adds Skymark.