UK leisure carrier Jet2 outstripped pre-crisis profits for the six months ended 30 September, returning to the black on surging demand after markets reopened as Covid restrictions ended.
Jet2 posted an operating profit of £517 million ($618 million) for the first half. That compares with a loss of £170 million for the same period last year, and was higher than the £365 million profit it made in the first half of pre=pandemic 2019. Net profit for the six months stood at £356 million, turning round a £164 million loss last year.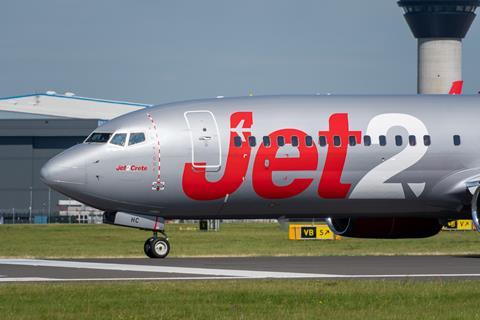 Revenues jumped from just £429 million in the period to end-September 2021, to £3.58 billion for the same period this year. Significantly, that is almost £1 billion more than the £2.62 billion revenues earned in the first half of 2019.
Jet2 executive chairman Philip Meeson says: "Our leisure travel business has continued its encouraging recovery following the reopening of international travel in early 2022. Strong customer demand, in particular for package holidays, plus a robust pricing environment and considered cost control, have underpinned a substantially improved financial performance compared to recent Covid impacted summer seasons, but also against pre-Covid summer 2019."
The airline flew 14% more seat capacity than in summer 2019 period, while load factor of 90.7% closed in on the 93.1% reported for the same period of 2019.
Jet2 though does estimate it took a hit in excess of £50 million in compensation and customer expense reimbursement related to the delays and disruptions at UK airports earlier in the summer as they struggled to handle rising demand. It also flagged a weaker than expected in-flight retail performance due to supply chain issues.
Meeson adds: "As is typical for the business, losses are to be expected in the second half of the financial year, as we continue to invest." Those investments include additional aircraft, marketing of its summer 2023 programme to boost forward bookings, as well as staff retention and recruitment efforts to "ensure maximum operational resilience" ahead of next summer. In October Jet2 firmed orders for another 35 Airbus A320neo-family jets, with the potential to take up to 71, with deliveries spanning three years to 2031.
While noting the key post-Christmas booking period is still to come, Jet2 says with bookings "encouraging" and pricing remaining "robust", that it is on track to exceed current average market expectations for its full-year group pre-tax profit before currency effects.
"Looking ahead, current seat capacity for summer 2023 is approximately 5% higher than summer 2022 (and approximately 20% higher than summer 2019) with bookings at this very early stage encouraging, average load factors broadly in line with summer 2019 at the same point and pricing strong," it says, while noting heightened costs costs could put margins under some pressure.