JetBlue Airways has upped to $33.50 per share its offer to purchase ultra-low-cost carrier (ULCC) Spirit Airlines, bringing the value of its proposal to about $3.64 billion.
In April, JetBlue had offered to buy Florida-based Spirit for $33 per share (about $3.58 billion), though it had since revised its offer to $31.50 per share ($3.4 billion).
JetBlue disclosed its latest proposal on 20 June, calling its terms "decisively superior" to a competing acquisition bid from Frontier Airlines.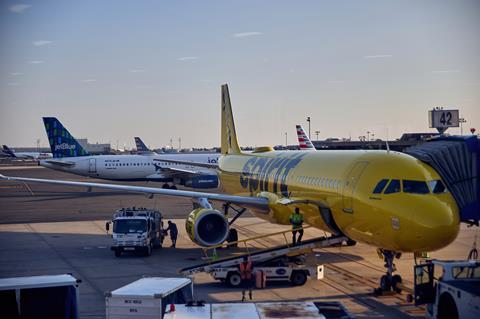 "After discussions with the Spirit team last week and further due diligence review, we are more convinced than ever that a JetBlue-Spirit transaction would create a true national competitor to the Big Four," says JetBlue chief executive Robin Hayes.
The higher bid comes as New York-based JetBlue seeks to convince Spirit's board of directors to consider its offer over that of Denver-based ULCC Frontier.
Frontier has offering to buy Spirit in a cash-and-stock deal worth about $2.2 billion.
Spirit's board has repeatedly indicated that it favours Frontier's offer on the grounds that US antitrust regulators are less likely to approve a combined JetBlue-Spirit.
JetBlue has said it intends to dismantle Spirit as an ultra-low-cost carrier, using Spirit's assets to expand the JetBlue business model.
Frontier, however, intends to create a larger ULCC by merging with Spirit, it has said.
Spirit did not immediately respond to a request for comment.