Jetstar Group is to relocate its operations to Changi Airport's Terminal 4 from end-March 2023, months after it slammed the airport operator for "unilaterally" relocating its carriers.
A statement from Changi Airport Group (CAG) says both Singapore-headquartered Jetstar Asia and Jetstar Airways will begin operating from the terminal on 22 March. They will shift their operations from Changi's Terminal 1, where they currently operate alongside parent Qantas and other codeshare partner airlines.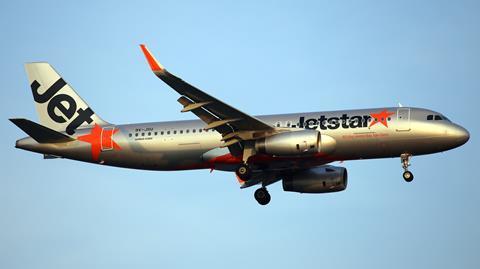 "The relocation to T4 will enable Changi Airport to optimise the use of its aircraft gates to meet the growing demand for air travel, while creating headroom for Jetstar to grow at the global hub," the operator states.
The statement follows confirmation in early November that Jetstar Group was due to move to Terminal 4, ending a months-long stalemate.
Jetstar, on its part, calls the move a "new chapter" and an "important" decision. Jetstar Asia chief Barathan Pasupathi says: "This move represents a new chapter for the Jetstar Group and we remain committed to delivering great travel experiences for our customers. By relocating as a group, combined with the assurance provided by CAG, customers will experience seamless connectivity while we continue to extend our excellent product offering to our premium airline partners."
Jetstar Asia flies short-haul low-cost services mainly within Southeast Asia, and operates about 200 flights a week. The airline also has codeshare agreements with other carriers such as Emirates and Air France-KLM.
Jetstar Airways operating chief Matt Franzi adds: "As we continue to ramp up our operations in response to growing demand for air travel, Singapore remains a popular standalone destination, while retaining incredible appeal as a stopover for travellers from around the world. Many of our customer take advantage of Jetstar Asia's extensive Southeast Asian network from this global hub and so it was important for us to also relocate to Terminal 4."
The airline group's latest statement is a marked shift from the terse comments made in July, where an "extremely disappointed" Jetstar said it had "no intention" of relocating until an agreement is reached.
Both Jetstar and Jetstar Asia were to have moved on 25 October to Terminal 4, which only recently reopened after being closed for two years of the pandemic.
CAG then responded to Jetstar Group's statement, noting that it had engaged the airlines about switching terminal operations in pre-pandemic 2019, when the airport was "experiencing tight capacity during peak hours". The operator had also promised to make "special provisions" to facilitate Jetstar's move.