Low-cost operator Jetstar ceded market share to rivals Regional Express (Rex) and Virgin Australia in July, as Australia's domestic passenger numbers rose sharply during the month.
In its latest domestic market analysis, the Australian Competition and Consumer Commission (ACCC) says Jetstar's market share in July fell five percentage points from April to 23%, as a result of "relatively larger reduction in capacity compared to other airlines".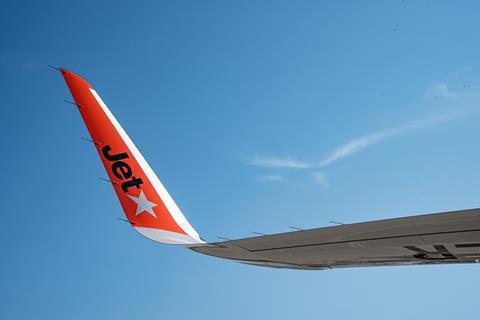 The ACCC notes that it was not usual for the low-cost unit of Qantas to lose market share in April and July – both school holiday months – during pre-pandemic years.
"Jetstar did not see a similar boost in passengers in July 2022 as it had historically and in April 2022," says the commission.
Rex, meanwhile, saw its domestic market share rise to around 5%, as it reported a rise in passenger numbers on routes linking larger cities. Virgin Australia also saw its market share inch up one percentage point to 33% in July.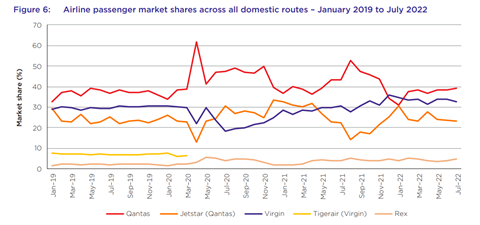 Qantas increased its share of the market to the highest so far this year, at 39%, up from April's 37%. The ACCC notes that the loss of Jetstar's market share meant that the Qantas Group's share slipped to 62% in the month.
The ACCC's latest analysis comes as Australia's travel recovery gets into full swing, though much of the industry has been plagued by operational woes, including delays and lack of manpower.
The commission notes that about 4.7 million domestic passengers flew in July, the highest level since the start of the pandemic. It is also the fourth consecutive month that domestic passenger numbers have climbed above 4 million, which the ACCC says is a sign of "notable stability" for a sector once struck by interruptions in recent years.
Flights linking the 'Golden Triangle' cities of Sydney, Brisbane and Melbourne were the three busiest routes during the month, a ranking that is largely similar to pre-pandemic levels.
However, ACCC data shows these flights were among the slowest in recovering to pre-Covid levels, reflecting the "greater significance of business travel to these routes, with demand for business travel returning more slowly than leisure travel".