Chinese carrier Juneyao Air was loss-making in 2020, much like its larger, state-owned compatriots, which have also saw their profitability punished by the impact of the coronavirus outbreak.
In its full-year results, the Shanghai-based airline swung to an operating loss of CNY749 million ($115 million). This compares to the CNY1.29 billion operating profit it reported in 2019.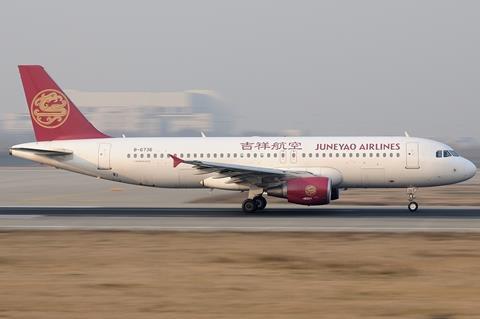 As with other carriers in the country, a collapse in passenger travel demand — particularly in the first half of the year — meant that revenue declines outpaced a reduced costs.
Juneyao disclosed a near-40% year-on-year drop in revenue, at CNY10.1 billion. Costs, meanwhile, saw a 27% decline year on year, to CNY11.6 billion.
The carrier reported a net loss of CNY474 million, reversing 2019's net profit of CNY994 million.
Juneyao had earlier forecast a full-year loss excluding non-recurring items for 2020 of CNY420-490 million, with the projection increased to CNY580-660 million with non-recurring items included.
Despite swinging to a full-year loss, Juneyao says it is optimistic of domestic prospects, even though it was not of the same size as its larger competitors.
Noting that China, where the coronavirus was first discovered, has the pandemic largely under control, Juneyao adds: "Judging by the growth trend of passenger traffic in China's aviation industry in the past 10 years, the country's civil aviation market, especially first- and second-tier cities, will continue to grow in the future, and the market potential is still huge."
With domestic competition heating up, the carrier notes that what would set it apart from its rivals would not solely be on price, but on what it called "service innovation" and "differentiated operations".
The carrier discloses that it will continue to adjust and optimise its fleet according to market conditions.
According to Cirium fleets data, the carrier has 35 Airbus A320ceo, 27 A321ceo aircraft, alongside eight A320neos and a sole A321neo. Juneyao also operates eight 787-9s.
In its fleet plans, the carrier states that it will focus on the A320neo family, which it believes gives it a "strong competitive advantage" on trunk domestic routes. The A320neo and A321neo aircraft will help meet "developmental needs" in the short to medium term, it adds.
As for its widebody fleet, Juneyao expects to take delivery of two more 787s this year. It notes that it was "crucial" to identify intercontinental routes with strong yield.
In total, Juneyao expects to take 14 aircraft this year, with another five more aircraft a year in 2022 and 2023. Its low-cost unit 9-Air, which operates Boeing 737s, will take six aircraft this year, another six in 2022, and seven jets in 2023.
Despite witnessing a strong domestic air traffic rebound, China's three largest carriers — comprising Air China, China Eastern Airlines and China Southern Airlines — all racked up significant losses at the operating level, as revenue decline outpaced a drop in costs.