Major Asia-Pacific carriers are beefing up capacity to Japan following Tokyo's decision to drop travel restrictions related to coronavirus pandemic from 11 October.
South Korea's Asiana Airlines will operate far more weekly services to Japan from 30 October, with an aim to operate 40% of its pre-pandemic Japanese capacity by the end of 2022, says the carrier.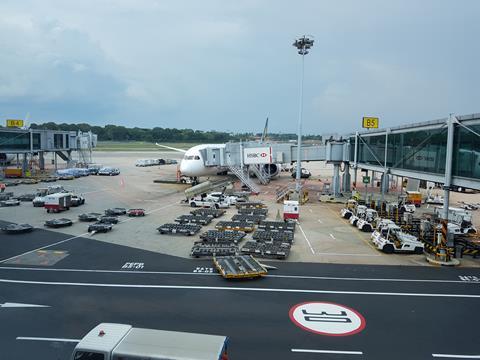 Given that the Star Alliance carrier operated 143 flights weekly to Japan before the pandemic, it is targeting about 57 flights weekly.
"We decided to increase flights to Japan because demand is expected to increase significantly due to the easing of Japan's immigration measures and the weak yen," says Asiana chief executive Jeong Seong-gwon.
During a 22 September speech to the New York Stock exchange Japanese prime minister Fumio Kishida said his countries will reopen borders on 11 October, setting the stage for a year-end travel boom. In addition, Japan will resume visa-free and individual travel.
For the time being, the number of visitors to Japan is capped, and visitors must be on tours following specific itineraries.
Asia's fellow Star Alliance carrier Singapore Airlines will also boost capacity to Japan from 30 October, with additional services to Tokyo Haneda. This, combined with carrier's Singapore-Tokyo-Los Angeles services, means SIA will have four daily services to Tokyo.
It will also boost services to Osaka Kensai to twice daily, and services will be increased to Fukuoka. Low-cost unit Scoot will also boost traffic to Japanese destinations.
Singapore Airlines and Scoot will also boost services to South Korea – which has also opened up. Services to Taiwan will also be increased, with SIA and Scoot to operate 18 weekly flights to Taipei from 31 October.
China and Hong Kong will also see additional frequencies.
Hong Kong's Cathay Pacific, for its part, also says it will boost Japan traffic.
"In view of Japan's relaxation of travel restrictions for inbound visitors, Cathay Pacific will resume daily flights to Tokyo (Haneda) from 1 November and four-times-weekly flights to Sapporo from 1 December," says Cathay.
"We will also increase flight frequencies to Tokyo (Narita) to 43 pairs and Osaka to 50 pairs in October."
Separately, United Airlines on 22 September said that it would reinstate a second direct San Francisco-Singapore service on 29 October.
"We resumed our Singapore-San Francisco nonstop service in January 2022 and received an overwhelming response from our customers," says United executive Walter Dias.
"To meet the increasing customer demand, we've decided to resume our twice-daily service which can provide our customers with greater choices and more options between Singapore and San Francisco and beyond with optimal departure and arrival times. Singapore is an important business and leisure destination for United and we remain committed to serving the Singapore market."