Korean Air has started "intensive" inspections on its fleet of Airbus A330s, taking them out of service in phases, following two incidents involving the type within the span of a week.
At an urgently-convened meeting by South Korea's Ministry of Land, Infrastructure and Transport (MOLIT), airline president Woo Kee-Hong says the "special safety audit" will cover 24 in-service examples - comprising -200s and -300s - while another six aircraft will be retired from operations.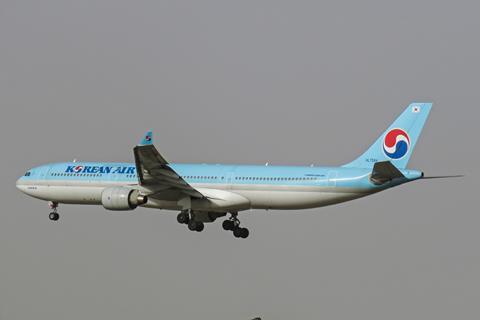 Woo also told officials that the airline "will proactively seek an objective examination" of its safety management system and operations by a "specialised external institution".
"While I believe Korean Air has world-class safety management capabilities based on years of experience, we will review the possibility for improvement in the company's safety culture and safety management procedures through an external review," says Woo, in remarks shared with FlightGlobal.
On 23 October, a Korean Air A330-300 (HL7525, MSN219) suffered a runway excursion after landing at Cebu international airport in bad weather.
It was operating flight KE631 from Seoul Incheon and was carrying 162 passengers and 11 crew.
A week later, another A330-300 bound for Sydney returned to Seoul after take-off after a reported failure on one of its engines.
Stressing that the airline "takes [the] recent events very seriously", Woo told officials that Korean Air "will address imminent issues immediately and undertake issues that require time with full-scale strategy".
He also disclosed the airline's fleet modernisation plans, which will see it take new-generation aircraft - like the Boeing 737 Max, 787, as well as A321neos - over the next five years, while phasing out older aircraft like its A330s, which are mostly around 20 years old.
Following the meeting, MOLIT officials have ordered a two-week "special safety inspection" for the country's 11 operators, as the sector recovers from a pandemic-driven travel slump.