Korean Air has warned that cargo demand – its financial lifeline amid the pandemic – is likely to continue to weaken this year, as its quarterly profits fall despite a return of passenger travel.
In preliminary financial results for the quarter to 31 December 2022, the SkyTeam carrier reported an operating profit of W520 billion ($422 million), down 26% year on year.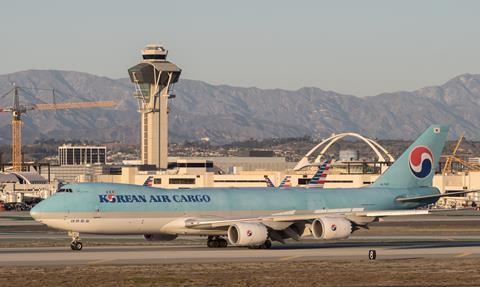 Korean Air reported a 27.6% increase in revenue to W3.6 trillion, led by a fourfold jump in passenger revenue.
The airline saw traffic for the quarter increase about four times compared to 2021, as markets in Northeast Asia - including South Korea itself - reopen to international travel.
However, the airline notes that traffic for the quarter was only 59% pre-pandemic levels. Capacity, which more than doubled year on year, was about 61% pre-Covid levels.
Still, Korean Air notes that passenger demand "has entered a full-fledged recovery stage", outpacing cargo revenue, which slumped 29% although the fourth quarter is usually a strong period.
Korean Air attributes the poorer showing to the slowdown in the global economy, as well as a recovery in bellyhold capacity, which led to a drop in airfreight rates.
The carrier also saw quarterly expenses outpace revenue increase, at about 46% to W3.1 trillion. Fuel costs, in particular, grew nearly 97% year on year.
For the full year, Korean Air reported an operating profit of W2.9 trillion, nearly double its profit in 2021, with revenue increasing 53% to W13.4 trillion.
In its outlook, Korean Air expects that passenger travel demand will continue to recover.
"Despite concerns about high interest rates and [an] economic downturn, passenger demand is to increase with the transition to an endemic period," it states.
On the other hand, it notes that cargo demand will remain tepid amid concerns of a slowing economy. To this end, Korean Air says it will "strengthen global partnerships" with freight forwarders, to better "preempt demand".