Korean Air saw its operating profit in the second quarter of its 2022 financial year nearly quadruple to W736 billion ($569 million).
Revenues also grew strongly, rising 71% year on year to W3.3 trillion, according to its results statement for the three months ended 30 June.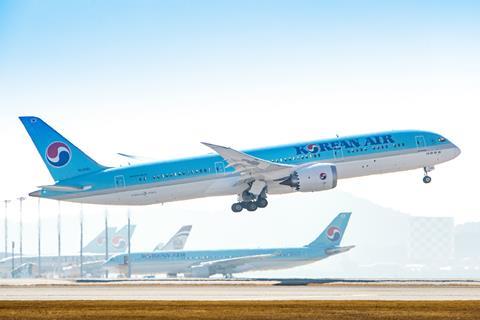 "Despite continued high oil prices and volatile exchange rates over the course of the second quarter, the airline's gradual recovery in passenger demand and robust cargo demand led to improved results year-on-year," says the carrier.
Korean posted a net profit of W320 billion for the quarter, more than triple from the second quarter of 2021.
With the removal of many international travel restrictions related to the coronavirus pandemic, passenger revenue grew more than fourfold to W874 billion.
Cargo revenue grew 44% to W2.2 trillion in the quarter.
"While the prolonged war in Ukraine and the lockdowns in China continued to disrupt the global logistics supply chain into Q2, the airline managed to maximize profit by actively transporting high-demand emergency relief supplies, automobile parts, semiconductors and electronics," it says.
Given increased fuel consumption with more flying, a high fuel price, and an adverse exchange rate environment, the carrier's fuel coast more than doubled to W1 trillion in the quarter. Costs excluding fuel also grew, rising 17% to W1.6 trillion.
"The airline expects passenger traffic to recover slower than originally forecasted in the second half of the year, as external factors such as the pandemic and oil prices linger," says Korean.
"The airline seeks to gradually increase its passenger network capacity to 50% of pre-pandemic levels by September, and will continue to respond flexibly to demand."
It adds that it will supplement its cargo capacity with bellyhold space as more passenger aircraft come on-line.
As of 30 June, Korean Air had a fleet of 154 aircraft (unchanged from a year earlier), divided among 131 passenger aircraft and 23 dedicated freighters.