A strong cargo performance propelled Korean Air's operating profit to W439 billion ($372 million) for the third quarter of 2021.
The operating profit for the three months ended 30 September marks a big jump from its operating profit of W7.6 billion for the corresponding quarter in 2020, says Korean Air.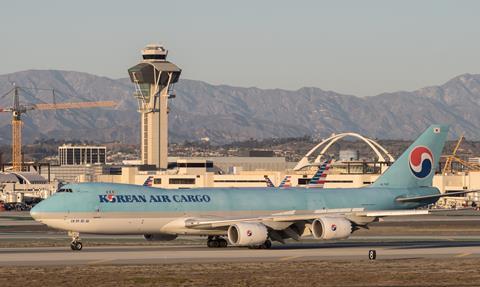 The last time the carrier's quarterly operating profit surpassed the W400 mark was in the third quarter of 2016, when it notched an operating profit of W448 billion.
Third-quarter revenues jumped 44% year on year to W2.2 trillion, and the carrier swung to a net profit of W134 billion from a net loss of W386 billion a year earlier.
Cargo revenues came in at a record W1.7 trillion. Korean Air attributed this to four factors: global supply chain bottlenecks, higher air cargo demand, bigger shipping volumes, and increased cargo rates.
Going into the fourth quarter, it forecasts continued strong cargo demand owing to the holiday season, as well as the continued short supply of cargo capacity. The airline will keep operating passenger jets converted for cargo flights, and recruit additional ground handling staff and contractors to sustain the business.
Third quarter passenger demand, however, remained weak owing to the coronavirus pandemic, specifically the more infectious Delta variant of Covid-19. Nonetheless, passenger sales improved 55% quarter on quarter to W332 billion, owing to more demand for international flights, namely to the Americas, as well as domestic demand during South Korea's summer vacation season.
Korean Air expects passenger demand to remain sluggish, but notes the possibility of growing demand as borders start to re-open. It plans to "flexibly operate regular and irregular flights" to destinations that do not impose quarantines, such as Chiang Mai, Hawaii, Guam, and Spain.