In a major shake-up of the country's airline industry, the owner of South Korea's flag carrier Korean Air has announced a W1.8 trillion ($1.62 billion) takeover bid for embattled rival Asiana Airlines.
Korean Air and parent Hanjin KAL made the decision to "stabilise the Korean aviation industry", which, like many others around the world, has acutely felt the impact of the coronavirus outbreak.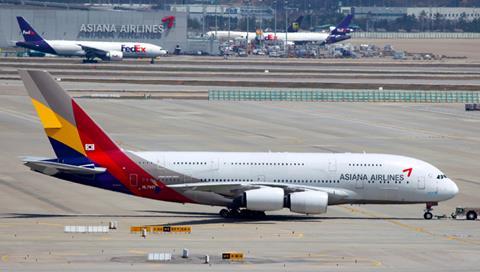 "Considering that Korean Air's financial status could also be endangered if the Covid-19 situation is prolonged, it is inevitable to restructure the domestic aviation market to enhance its competitiveness and minimise the injection of public funds," Korean Air adds.
Disclosing details of the takeover, Korean Air says it will buy new shares issued by Asiana — valued at around W1.5 trillion — and purchase Asiana bonds worth around W300 billion.
Korean Air, for its part, will also raise capital through share issuances. State-owned Korea Development Bank (KDB) will invest W800 billion into Hanjin KAL, acquiring the newly issued Korean Air shares.
Of the W800 billion it receives from KDB, Korean Air will use W300 billion to purchase Asiana-issued bonds, and pump in another W300 billion to Asiana "to secure the funding needed for operations until the end of the year, as well as improve its financial position".
Post-merger, which will also see consolidation among both carriers' low-cost units, Korean Air states that it will be "one of the top 10 airlines" in the world according to size, allowing it to compete more effectively with regional rivals.
The merger of the two rivals will also streamline operations, thereby lowering costs, adds Korean Air.
"More slots secured at [Seoul] Incheon International Airport, a transport hub in Asia, through the consolidation of the airlines, may lead to an increase in joint ventures with global airlines and greater transfer demand, which will also spur the growth of the domestic aviation industry," it says.
The move ends months of speculation about who would acquire Asiana, after multiple failed attempts by Asiana parent Kumho Industrial to sell its controlling stake in the carrier.
In September, a deal by HDC Hyundai Development fell through, after concerns about an increase in Asiana's debt burden, as well as the ongoing coronavirus pandemic.
Cirium fleets data indicates that Asiana has a fleet of 82 aircraft, most of them Airbus jets, including A380s, A350s, as well as A320 family aircraft.
Korean Air, meanwhile, has a larger fleet of more than 170 aircraft. These include A220s, A380s, as well as Boeing 777s and 787s.