Korean Air lifted its second quarter operating profit 31% to W197 billion ($174) million on the back of a record performance from its cargo business.
Revenue grew 16% year on year to W1.95 trillion, of which W1.5 trillion was cargo revenue, says the carrier. It notes that cargo had a record quarter, beating the previous record of W1.4 trillion in the fourth quarter of 2020.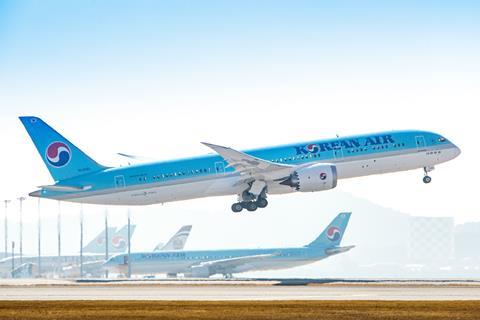 The airline's passenger business, however, remained challenged amid the coronavirus pandemic. Korean says it is working to offset this through domestic services to the island of Jeju as well as international charter flights.
"Many uncertainties surround the air cargo market in the second half of the year, as worldwide vaccination rates increase and fear of COVID-19 variants spreads," says Korean.
"However, cargo demand for IT and e-commerce will stay strong due to the recovering economy and boost in companies' restocking needs. Korean Air will continue to maximize its profit by utilizing its freighters and cargo-only passenger aircraft throughout its strong global network."
Korean expects passenger demand to remain "sluggish" in the second half of 2021, and notes that it is difficult to predict any recovery.
"Korean Air's passenger business will operate its international routes flexibly while closely monitoring the market situation, including travel restrictions of major hub cities, vaccination rates, application of digital health passes, and new travel bubbles," it says.