The Competition & Consumer Commission of Singapore (CCCS) has given its approval to the merger of Korean Air and Asiana Airlines.
The CCCS conducted a review into the proposed merger in July 2021, soliciting feedback from 150 stakeholders, including aviation regulators, competitors, and customers.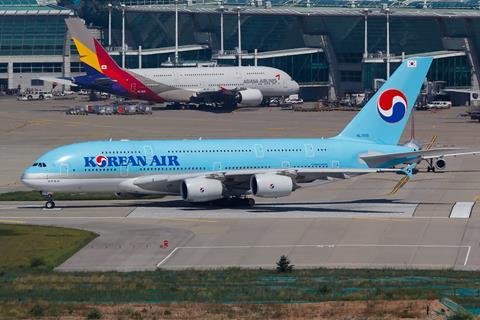 "CCCS found that it is likely that the merged entity will continue to face a high degree of competition from Singapore Airlines," it says in regard to passenger services.
"Further, the entry and potential entry of new players will constrain the merged entity's ability to raise prices, and disrupt any coordination between market players, in terms of price or sales terms."
Further, it believes there will be significant competition in the cargo space after the merger.
Prior to Singapore's approval of the merger, the deal has received clearance from Malaysia, the Philippines, Turkey, Taiwan, Thailand, and Vietnam.
Korean says that it will continue working with Australia, China, Japan, the European Union, the UK and USA to finalize the acquisition process.
As for South Korea, the Korea Fair Trade Commission is holding a plenary meeting this week regarding the merger.
"We respect the decision from the Korea Fair Trade Commission's plenary meeting, and will continue our effort to receive approvals from the remaining regulators," says Korean.
Korean Air first announced plans to acquire its compatriot and rival Asiana in November 2020, after acknowledging the devastating impact the coronavirus outbreak has wrought on the airline industry.
The carrier confirmed in June that both full-service brands will be merged under one brand, while its low-cost affiliates — comprising Korean Air-linked Jin Air, as well as Asiana units Air Busan and Air Seoul — will also be combined.
Updated with quote from Korean about Korea Fair Trade Commission meeting.