LATAM Airlines Group has terminated plans to develop a joint venture agreement with alliance partner International Airlines Group (IAG) after deciding to leave the Oneworld alliance.
The carrier today stated its intention to cancel the joint venture, first announced in January 2016.
"IAG and LATAM Airlines have decided that they will not implement the announced joint business agreement or JBA [joint business agreement]," the airline states in a regulatory filing.
Interline agreements, codeshare agreements, contracts of access to VIP lounges and frequent passenger program between the airlines remain valid, the statement says.
LATAM's decision to leave Oneworld came after Delta Air Lines announced in September that it will invest $1.9 billion in LATAM, representing a 20% stake in the company.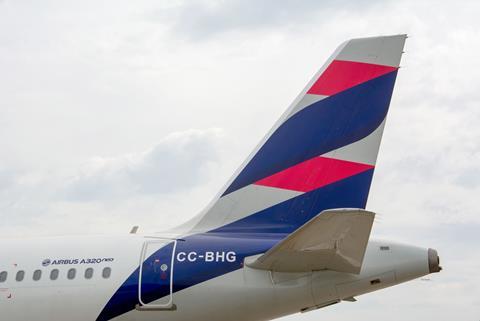 Earlier in December, the South American carrier finalised the new codeshare agreement with pending-equity owner and Delta, which will see the airline terminate its joint venture with American Airlines on 31 January 2020.
American and LATAM had been applying to start a joint venture that was challenged in the Chilean courts in May, which delayed regulatory approval for their plans.
The initial 2016 joint venture agreement proposed that IAG carriers British Airways and Iberia would "cooperate commercially" with LATAM on flights between the European Union and South America, "increasing the number of destinations that the airlines can offer customers".
"By working together to provide enhanced links for connecting passengers the airlines would expand customer choice via integrated networks, new non-stop routes, additional frequencies on existing routes and combined fares," the 2016 IAG announcement stated.
LATAM became a Oneworld alliance member in 1999, through Chilean component carrier LAN Airlines at that time. Over the 20 year membership, other component carriers based in Argentina, Brazil, Colombia, Ecuador, and Peru joined Oneworld. The LAN carriers eventually rebranded themselves into LATAM Airlines Group around 2