LATAM Airlines Group revenues moved to within 3% of pre-crisis levels in the third quarter as it posted an adjusted operating profit of $63 million for the period.
The results come just a week after the the group emerged from the formal Chapter 11 bankruptcy process it entered shortly after the pandemic hit, and costs related to the latter dragged the carrier to a net loss of €296 million for the third quarter. That though did mark a more than halving of the losses posted in the third quarter of 2021.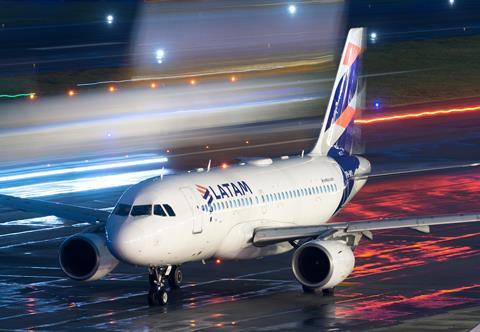 LATAM revenues of $2.59 billion were driven by strong passenger yields, which were 14% above 2019 levels. This helped offset the lower capacity, which was at 81% of pre-pandemic levels in the quarter – though that was higher than the 73% capacity flown in the second quarter.
Cargo revenues of $413 million also continued to climb, up 14% on the third quarter of last year and 63% higher than in 2019. That in part reflects its programme to convert 10 Boeing 767 passenger aircraft to freighters, four of which have already been completed. The remainder will be converted over the next two years.
While increased oil prices resulted in fuel costs jumping 55% compared with 2019, wider savings secured during its restructuring helped restrict the overall increase in costs to just 5%. That includes wage and benefit costs down a third.
LATAM Airlines chief executive Roberto Alvo says: "We have achieved so much from a financial and organisation perspective during these past 30-plus months – de-leveraging by approximately 35%, implementing over $1 billion in recurring cost savings initiatives, rolling out a digital transformation and making important advances in long-term sustainability."
LATAM's fleet stood at 301 aircraft at the end of September, 39 less than it operated prior to its restructuring. The carrier retains orders for 86 Airbus A320neos and a pair of Boeing 787s for delivery between now and 2029. It also has agreements to lease another 787 this year, 14 A320s over the next two years and for five A321XLRs to be delivered in 2025-26.