Negotiations between Thai Airways International and one of its lessors Amedeo Air Four Plus (AA4) over the future of four Airbus A350-900s are reaching a "critical phase" as the airline is due to finalise its restructuring plan next month.
AA4's chairman Robin Hallam said in a 15 January filing to the London Stock Exchange that he had hoped the plan could have been submitted in January, but that the complexities of the process in Thailand's Central Bankruptcy Court caused an extension to be granted.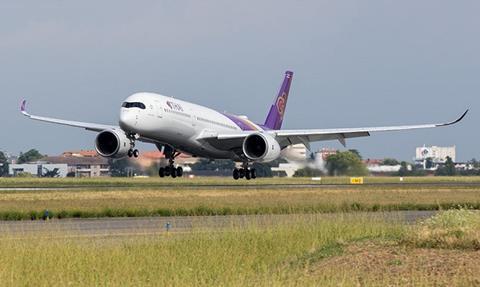 The Thai flag carrier is due to submit its plan by 2 February, having pushed forward the deadline from the first week of January. Its acting president Chansin Treenuchagron said on 5 January that the company is working "diligently" to submit it by that timeframe.
In its disclosure, AA4 adds that its asset manager Amedeo has entered discussions with Thai about possibly operating its aircraft on a power-by-the-hour basis, as well as the long-term future of the widebodies with Thai.
"While the aircraft are in temporary storage, it would be preferable to see these aircraft fly and earn some income for the company," it says.
"Discussions have also commenced around the potential to keep the company's aircraft as part of the carrier's long-term strategic plans. The negotiations remain in progress and further detail will likely be revealed after the carrier submits its restructuring plan to the court."
Since mid-December, Thailand has seen a surge in Covid-19 cases, having reported low case numbers for many months prior. There have been 12,054 confirmed cases of Covid-19 in Thailand and 70 deaths as of 17 January, World Health Organization data show.
Hallam fears this resurgence of the virus could delay Thai's recovery.
"In terms of the situation in Thailand, as far as Covid-19 is concerned, if anything this appears to be getting worse in that inbound tourist traffic will be diminished for longer than initially feared (this being the mainstay of Thai Airways business), and it may be that the planners are having to reassess the likely recovery trajectory for tourist traffic in that light," he says.
He goes on to say that AA4 is working closely with its lenders for a "collectively acceptable solution" and that it has been its policy to avoid repossessing aircraft in the current market to protect investors from losing their equity in the assets.
"To keep our lenders onside however, the market generally dictates that we should keep lenders' current on interest, at the very least to avoid an enforcement scenario where the lenders take over the equity position," he says.
"For as long as there is no income from Thai this must be funded from cash reserves in the company and we are in the fortunate position where thankfully such reserves were accumulated prior to Thai's rehabilitation process."
Unlike Thai, AA4's other lessee, Dubai-based Emirates, to which it leases six A380s and two Boeing 777-300ERs, continues to pay rent in full. Hallam describes this as a "very positive indicator as their most recent accounts showed that deferrals had been agreed with some lessors".
While the rental income from Emirates is a positive for the company, Hallam is concerned about the "severe impairment" of A380 values in the market that "appraisers and commentators consider will be permanent".
He adds that vaccines offer a silver lining for the industry amid the turmoil of Covid-19.
"As we approach the anniversary of the eruption of the virus, the emergence of viable vaccines has the potential to see an end to this pandemic and along with it, the worst crisis in aviation history," he says. "Let us fervently hope that this is indeed the case."