South African Airways' (SAA) challenged low-cost carrier unit Mango Airlines is set to enter a formal business rescue process, the acting head of its parent airline Thomas Kgokolo has disclosed.
Mango has been struggling to maintain operations after SAA's subsidiaries faced delays in receiving portions of funding from a wider R10.5 billion ($706 million) state rescue package agreed for SAA last year. Mango was briefly forced to cancel flights at the end of April over late payments, before a deal on resuming services was brokered.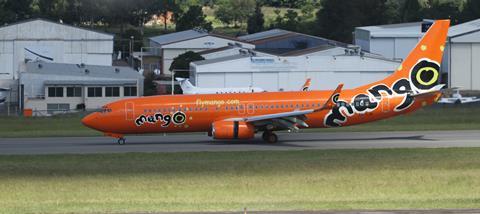 Asked about the situation at Mango in a television interview with South African news channel ENCA, Kgokolo said: "We are aware at a group level there are delayed salaries and what we can say is the board and the shareholder have agreed that Mango will go into business rescue."
He says it currently consulting with all key stakeholders on how it manages that process.
"The issue with Mango was with regards with the funding which involved all the [SAA] subsidiaries – about R2.7 billion [$0.18 billion]," he explains. "We have been working very hard to improve that situation and we hope we can make some communication later this week or early next week, regarding the funding for the subsidiaries."
In a brief statement, Mango referencing Kgokolo's comments, says: "While this process and official statement are underway, Mango can confirm that operations are not affected by this decision and further updates will be made available as soon as possible."
SAA itself entered business rescue in late 2019 and South Africa's government in June reached an agreement to sell a majority share in the airline to a consortium of investors as part of the effort to relaunch the troubled flag carrier.
Kgokolo says the airline expects to secure its air operator certificate (AOC) in the next few days, a further step to resuming flights.
"From a restart point of view, we have segmented it into two," he says. "If the AOC is confirmed and the operating licence confirmed this week, then what we plan to do is as early as August we want to get back into cargo. Cargo will go in first before we talk about the passenger restart date."
Passenger air travel in South Africa has been further hit by a tightening of restrictions to counter rising Covid cases in the country, but South African president Cyril Ramaphosa on 25 July announced an immediate lifting of these measures. That includes a ban on inter-province leisure travel.
"We are meeting this week with the key shareholders to do the final touch up and then we'll issue an update," Kgokolo says.