Lufthansa Group has confirmed that new short- and medium-haul carrier City Airlines will begin flights in the summer of 2024, operating out of its Frankfurt and Munich hubs.
The carrier was established in 2022 and received its AOC in June this year. It will operate alongside regional unit Lufthansa CityLine, which also flies from those hubs.
City Airlines will initially operate Airbus A319 twinjets, but Lufthansa says it is also evaluating "the possibility of using" Airbus A220s or Embraer jets.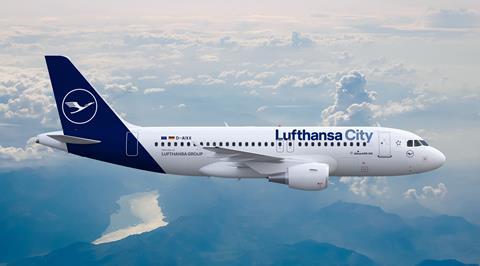 On the rationale for setting up a new subsidiary, the group says "the competitive strengthening" of its short-haul network is "essential" to build its market position and to facilitate Lufthansa mainline's planned long-haul growth in Germany.
Lufthansa Group chief executive Carsten Spohr has previously noted that City Airlines offers an alternative to CityLine, which will not be permitted, under a union agreement, to operate aircraft with more than 75 seats from 2026. All of CityLine's current fleet – A320-family jets, Embraer 190s and Bombardier CRJ900s – exceed that seat limit.
Notably, Lufthansa's announcement on 25 October says that for group employees interested in switching to City Airlines, "offers with voluntary switching conditions can be negotiated", adding: "This includes Lufthansa CityLine staff in particular."
Spohr also previously suggested that City Airlines would provide a home for pilots at the former Germanwings operation, which ceased flights in 2020.
"With City Airlines, we want to create prospects for the coming decades and secure sustainable jobs in Germany," says Jens Fehlinger, managing director of City Airlines. "This is the only way for us to grow and sustainably strengthen the hubs in Munich and Frankfurt."
Passengers will receive the "uniform Lufthansa customer experience" on City Airlines services, the group states.