Lufthansa Group expects to report an operating profit for the second quarter of 2022, driven by the performance of its cargo and MRO units.
That would mark the group's second pandemic-era quarterly operating profit, after it recorded a positive return in the third quarter of 2021. Before that, the impact of Covid-19 meant it last achieved an operating profit in the fourth quarter of 2019.
Outlining its preliminary second-quarter results on 15 July, the group says that a "continuously strong performance" from its Lufthansa Cargo unit and a positive return from Lufthansa Technik will push its adjusted EBIT to between €350 million ($353 million) and €400 million.
Its Passenger Airlines segment's operating result is expected to remain in negative territory, however, despite better yields and loads, and a positive performance from Swiss.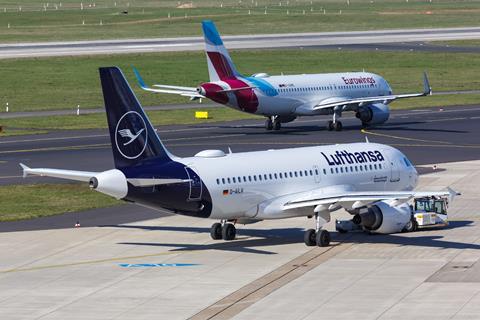 Nevertheless, expected group revenue of around €8.5 billion is more than double that recorded for the same three months in 2021.
Lufthansa adds that it achieved "significantly positive adjusted free cash flow" in the quarter of €2 billion and that its net debt – which stood at €8.3 billion on 31 March – is likely to fall by a similar amount.
The group will release its finalised financial results on 4 August.