Lufthansa Group is expecting strong demand for air travel to continue "into the coming months", despite the economic and geopolitical headwinds faced by the airline industry and wider economies.
Reporting a third-quarter operating profit of €1.1 billion ($1.1 billion) on 27 October, the group said it expects the positive financial performance to continue into the seasonally weaker fourth quarter, aided by high average yields.
"The Lufthansa Group has economically left the pandemic behind and is looking optimistically into the future," says group chief executive Carsten Spohr. "After all, the desire to travel and thus the demand for air travel continues unabated."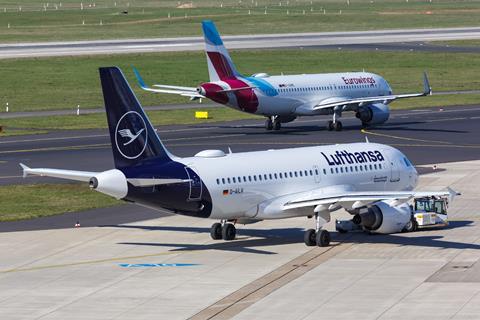 The operating profit for the July-September period included a strike-action impact of €70 million and "costs for irregularities in air traffic" amounting to €239 million, the group says. It came amid a near-doubling of revenue to €10.1 billion, from €5.2 billion in the Covid-hit third quarter of 2021.
The group swung to a net profit of €809 million for the quarter, having reported a €72 million loss in the third quarter of 2021.
The group's airlines segment – covering carriers including Lufthansa, Swiss, Austrian, Brussels Airlines and Eurowings – swung to an operating profit of €709 million, having reported a loss of €193 million in the third quarter of 2021.
Yields were on average 23% higher than in 2019, the group says, driven by intercontinental markets and the transatlantic in particular. The average seat load factor of 86% was back at pre-Covid levels, albeit on capacity at 78% of 2019 output.
Costs per available seat kilometre were up nearly 10% on 2019 levels at €5.6 cents, amid high fuel prices and rising staffing costs as the group ramps up operations, but revenue per available seat kilometre of €9.3 cents outpaced that rise, at 16% up on the same basis.
Austrian and Brussels Airlines are now expected to repay their outstanding government stabilisation funds – €210 million and €290 million respectively – by the end of this year, the group says, thanks to "the strong increase in demand, a good liquidity development and the financial support of the Lufthansa Group".
Meanwhile, Lufthansa Cargo remains on track to report a year of record profitability, despite capacity still being significantly down on 2019 levels, as it reported an operating profit of €331 million for the quarter.
Lufthansa Technik is also seeing a record performance, reporting an operating profit of €177 million for the quarter, and notes "good success in passing through cost inflation to customers".
Group chief financial officer Remco Steenbergen states: "A healthy balance sheet is the basis for profitable growth, especially in economically challenging times.
"We have already made very good progress in reducing our debt [and] thanks to our strong cash flows, our refinancing needs will remain low in the coming quarters.
"With disciplined capacity management, our yield focus and strict control of spending, we are confident that we will continue to be able to compensate well for inflation-related cost increases."
Amid the positive results, the group has raised its earnings forecast for the full year to an operating profit of more than €1 billion euros.
It expects its airline segment to operate 80% of 2019 capacity in the fourth quarter.