Lufthansa will resume Airbus A380 operations on 1 June with daily flights from Munich to Boston, marking the return of an aircraft type that once looked unlikely to fly for the carrier again.
Flights from Munich to New York JFK will follow from 4 July, the German carrier states, with a total of four A380s due to be deployed from Munich by the end of 2023.
Lufthansa notes that the A380 has around 80% more capacity than the Airbus A340-600 currently flying on the Munich-New York JFK route.– the latter being another older aircraft type that made an unlikely comeback at Lufthansa after being grounded at the start of the pandemic.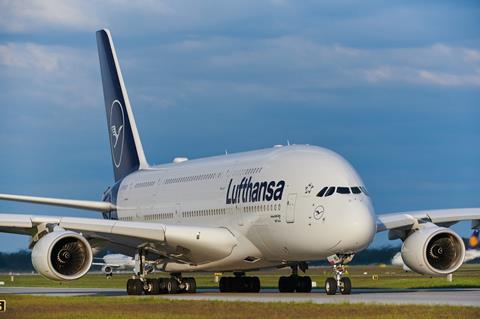 Speaking to FlightGlobal in late February, Lufthansa Group chief executive Carsten Spohr also named Los Angeles as a potential A380 destination, noting that the airline was considering the reactivation of up to six of the superjumbos.
Lufthansa reiterates that the return of the A380 reflects strong demand for travel and the delayed delivery of new aircraft. On the latter issue, Lufthansa Group has outstanding orders for several aircraft types that are seeing production delays of varying severity, including Boeing 787 and 777X widebodies.
Earlier in the pandemic, Lufthansa had said that none of its 14 A380s would return to service unless the post-pandemic demand recovery was stronger than expected. The German carrier has since sold six of its examples, leaving eight A380s in its fleet.
All of Lufthansa's A380s are powered by Rolls-Royce Trent 900 engines.