Madagascar Airlines is to take three Embraer E190-E2 jets from lessor Azorra, an executive from the airframer said on 7 December.
The African carrier will receive its first example in 2023, Embraer airline marketing manager Theo Wensink writes on LinkedIn, while the final two are due to be delivered in 2024.
Wensink outlined the details after a ceremony in Madagascar to mark the deal, which was attended by the country's president Andry Rajoelina.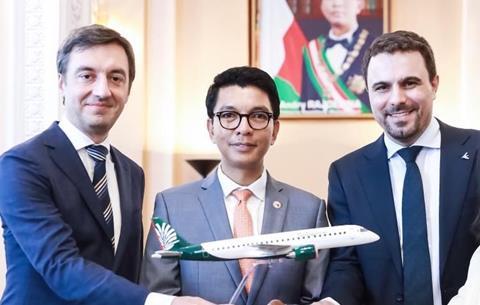 The Pratt & Whitney PW1900G-powered aircraft will be deployed on domestic routes that are currently operated by turboprops, Wensink notes, while also giving the carrier options to add regional routes.
The agreement follows Azorra's signing of a deal in January this year to acquire 20 E2-family aircraft from Embraer, plus a further 30 purchase rights.
Madagascar Airlines' fleet currently features a single Airbus A340-300, while six ATR turboprops and a single Boeing 737-300 are assigned to its domestic subsidiary Tsaradia.
The A340, 737 and two of the ATRs are in storage, Cirium fleets data shows, and the airline's long-haul flights to France are currently being served by widebody jets operated by carriers including Air Belgium and Hi Fly.
In early November, Rajoelina suggested the airline is seeking to add a Boeing 787 to its fleet.
Separately, Madagascar Airlines – which recently adopted that name after a rebrand from Air Madagascar – has appointed former Emirates and Qatar Airways executive Thierry de Bailleul as its chief executive.