Malaysian air traffic continued to rally in the third quarter of 2022, with passenger traffic hitting the highest level since the start of the coronavirus pandemic.
In the three months to 30 September, Malaysia saw overall passenger traffic of 15.6 million, a fifteenfold increase from a year earlier, according to statistics from the Malaysia Aviation Commission (MAVCOM).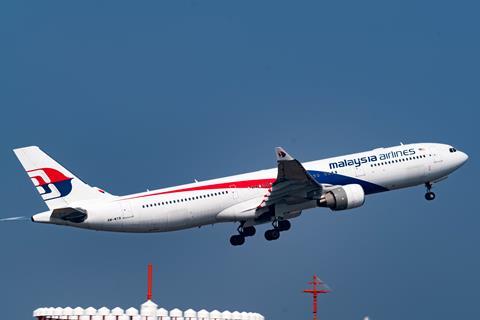 Domestic traffic for quarter hit 71.3% of pre-pandemic levels, and international traffic was 38.6% of pre-pandemic levels. The recovery is largely due to the elimination of onerous travel restrictions intended to contain Covid-19.
Looking forward, MAVCOM expects the fourth quarter of 2022 to outperform even its best-case scenario. Overall, it expects 2022 passenger numbers in the 53-55 million passenger range, up fivefold from a year earlier. In 2023, it expects total passenger traffic in the 74.6-80.8 million range.
"The Commission is pleased to note that the resumption and introduction of new air service routes by local airlines, as well as the relaxation of travel restrictions around the world, have contributed significantly to the recovery of passenger traffic to Malaysia," says Saripuddin Kasim, executive chairman of MAVCOM.
On the air cargo front, Malaysia saw FTK growth of 12.2% year on year in the third quarter. In 2023, MAVCOM expects FTKs to growth between 3-4.8%.
On its industry outlook, MAVCOM states that higher vaccination rates and more clarity around border measures will continue to boost the industry, as airlines are able to reinstate capacity.
It notes that the region's recovery has also benefited by the lifting of travel restrictions in key locations such Hong Kong, Japan, and Taiwan in the fourth quarter.
MAVCOM foresees Southeast Asia's air travel market as being resilient in 2023, and notes that start-up MYAirline will help push domestic traffic close to four million passengers monthly.
"International tourism is set to rebound in 2023 for Malaysia with the easing of the remaining travel restrictions around the world," adds MAVCOM.
"Local carriers including Malaysia Airlines, AirAsia, AirAsia X and Batik Air, have made plans to restore their capacity and increase frequencies on popular destinations such as Hong Kong, Japan, Taiwan, Australia, and the Middle East. This is expected to rapidly improve the international passenger traffic. With 3.1mn tourist arrivals from China in 2019, the expected return of Chinese travellers by 2Q23 will also provide a significant boost for the international passenger traffic."
Still, it warns that inflation and a slowing global economy could hurt demand for leisure travel. Manpower and worker retention also remain as challenges for the aviation sector.
"Rising geopolitical tensions in Europe and East Asia and the emergence of new COVID-19 variants could also constrain air passenger traffic recovery," it adds.