Malaysia Airlines is scaling down first-quarter capacity 7.1% amid the coronavirus outbreak, as it halves Chinese operations and makes a double-digit cut to North Asian services.
Addressing employees in a video seen by Cirium, Izham Ismail – chief executive of the airline's parent Malaysia Aviation Group – describes the 7.1% reduction as "huge".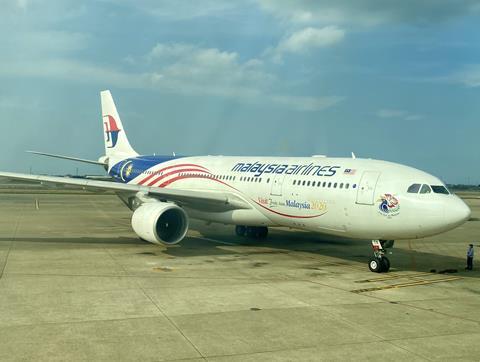 He notes the cancellation of "more than 1,600 flights" to date and says he expects the number to rise if the outbreak continues to affect demand for air travel.
"Malaysia Aviation Group is not spared from all of this," says Izham. "Drastic action from all of us needs to be taken. For a start, the senior management team will take a 10% salary cut, including the allowances."
Before facing the challenges posed by the coronavirus crisis, the group had managed to improve its performance in 2019.
Revenue climbed 7%, and net income rose despite higher fuel costs, foreign-exchange movements, and the adoption of a new accounting standard on leases.
Initiatives to raise revenue included introduction of a new family fare, upselling of its business-class offering, and promotion of new ancillary products.
Although a passenger-revenue target was missed by 3%, on a per-unit basis it was up 3%, as capacity was increased 5%. Yield likewise rose 5%. However, Izham did not provide a figure for the operating result.
After it achieved 65% of a savings target last year, he stresses the need for better cost control on a group level.
"What we need to do better is in further breaking costs down. Although we're already competitive compared to our peer airlines, there is still a large room for improvement, especially in reducing our wastage," says Izham.