AirAsia Aviation will for the first time begin interlining arrangements with a third-party carrier, as part of a wider strategic partnership between parent Capital A and the Garuda Indonesia Group.
From the first quarter of 2024, AirAsia Aviation, which has units in Malaysia, Indonesia, the Philippines and Thailand, will interline with Garuda low-cost unit Citilink, tapping into the latter's extensive domestic network.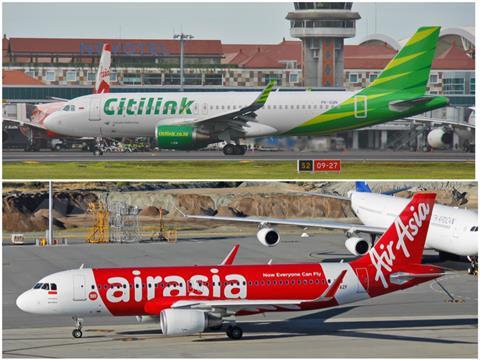 The partnership extends to over 50 domestic points in Citilink's network, along with AirAsia Aviation's 150 international destinations in Southeast Asia.
The interline partnership is "poised to provide travellers with unparalleled access to a multitude of underserved third- and fourth-tier cities in Indonesia", says Capital A.
Citilink, meanwhile, sees the partnership as expanding its presence internationally. Citilink chief Dewa Kadek Rai says: "Through the integration networks of both airlines, leveraging AirAsia's strength in Asean routes and Citilink's strength in domestic routes, it is hoped that the aviation industry can progress more effectively [in the] post-pandemic era."
AirAsia Aviation chief Bo Lingam hails the interline agreement as being "important for our next phase of growth", adding: "Over the next few years you will be seeing some exciting tie ups like Citilink which will help AirAsia, its partners and of course our guests, in making the world a smaller place."
Malaysia-headquartered Capital A signed the partnership agreement with Garuda in Jakarta on 27 September, with the aim of "strengthening of the global aviation ecosystem post-pandemic".
The strategic partnership also covers cooperation between both parties' cargo and logistics units, as well as MRO providers.
Under cargo and logistics, Teleport and Garuda will combine their air logistics networks, allowing goods to be shipped in a single airway bill.
"Teleport will leverage Garuda's strong domestic connectivity as well as added skidded capacity into high-demand sectors, such as Singapore, Shenzhen and Hong Kong-bound flights," states Capital A. Garuda, meanwhile, will tap into Teleport's network in Southeast Asia and Greater China.
As for MRO, Capital A's Asia Digital Engineering (ADE) and Garuda unit GMF AeroAsia are in talks "to further explore opportunities for another strategic partnership that will leverage on mutual strengths and efficiencies".
The tie-up, which comes as both groups move closer to full post-pandemic recovery, is "the blossoming of a meaningful partnership" says Capital A chief Tony Fernandes.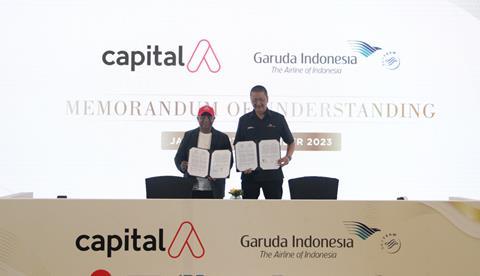 Garuda chief Irfan Setiaputra adds: "We believe that after the pandemic, collaboration within the aviation ecosystem is a necessity that should continue to be optimised."
Setiaputra has been vocal about the need for greater collaboration, most recently calling for more partnerships in a FlightGlobal interview at this year's Paris air show.
In his latest comments, he adds: "With this commitment in mind, our collaboration with Capital A is expected not only to provide a solid foundation for the business outlook of both companies but also to strengthen our joint commitment to delivering added value in the best aviation services for the community."