Mango Airlines' administrator is launching a legal bid to secure a decision from the South African public enterprises minister to unblock a planned potential rescue deal for the airline.
Sipho Sono, who has been acting as the business rescue practitioner since Mango was placed into formal financial restructuring in the summer of 2021, is taking the step amid frustration that the government has not yet reached a decision on South African Airways' application to sell its shares in Mango. This is part of the process for a prospective bidder to complete a potential rescue of the grounded carrier.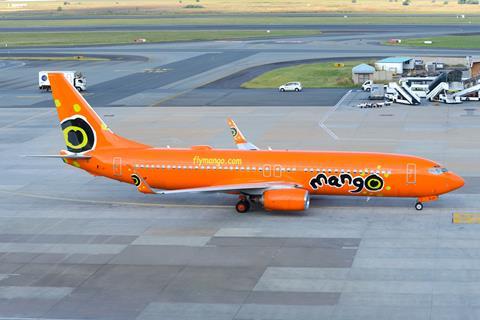 The ministry has been seeking more information from SAA over concerns, initially raised but subsequently dropped by Mango's parent airline, over the planned transaction. Sono says the delay risks completing a deal, as a preferred bidder for Mango had said it will withdraw from the process if a decision is not made by the end of February.
He also says the International Air Services Council (IASC) has resolved to cancel Mango's operating licence – which is currently suspended as it has not flown for over a year – in part because no decision on the application has been taken.
Further communication between Sono and the ministry has failed to bring about a decision. As a result, in an 8 February update, Sono says that, faced with the alternatives of either hoping a decision is made in time or of initiating a wind-down process, it is beginning legal proceedings against the minister to "compel him" to take a decision on the application.
"Due to the position of the preferred bidder and the decision of the IASC, the application to compel the minister had to be brought on an urgent basis," Sono says. "The business rescue practitioner is hopeful that the urgent application will be heard at the end of February and that the judge hearing the application will deliver [their] judgement shortly thereafter."
Sono says the bidder has agreed not to withdraw from the process until the legal proceedings against the minister are finalised.
While he is "taking every step available to him" to rescue Mango, he says the "difficulties experienced in the investor process have only served to increase the possibility that the transaction…may have to be abandoned".