Malaysia saw strong air traffic rights applications following reopening of borders on 1 April, while Malaysia Airports reports that international traffic is picking up.
The Malaysian Aviation Commission (MAVCOM) says air traffic rights applications by airlines jumped nearly eightfold during the first half of April compared with the first half of March.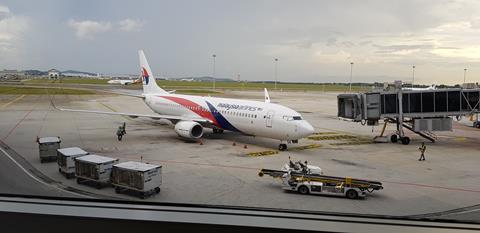 In all, it received 15 applications from airlines during the period, of which seven are for new cargo services, three for domestic passenger routes, and five for international passenger routes.
"Since the government's announcement of Malaysia's international borders being fully reopened on 1 April 2022, there has been a spur of [air traffic rights] applications from airlines," says MAVCOM executive chairman Saripuddin Kasim.
"This is indeed an encouraging development as it signals that the industry is gradually transitioning towards recovery."
By comparison, it received just two applications during the first 15 days of March.
More broadly, for the first quarter of 2022 MAVCOM received 22 applications, compared with 24 a year earlier. It attributed the decline in applications to airlines awaiting the border reopening.
Of the 22 applications, MAVCOM approved 21. During the first quarter, new regional carrier SKS Airways received the most approvals with four awarded.
Separately, Malaysia Airports saw international traffic jump 52% year on year to 420,000 in March. The strength was attributed to the previous Vaccinated Travel Lane (VTL) arrangements between Kuala Lumpur and Bangkok, Phnom Penh, Phuket, and Singapore. The VTL between Penang and Singapore have also helped.
"We continue to be encouraged by the gradual increase in international passenger movements at our local airports with the reopening of borders on 1 April," says Malaysia Airports managing director Mizal Mahmood.
"Since then, we have been recording a daily average of 20,000 international movements. We are expecting a further increase to this number once Kota Kinabalu International Airport (BKI) begins to receive international passengers this month. Prior to the pandemic, BKI was our 3rd busiest airport for international traffic with an average of 8,460 international passenger movements per day."
Travel restrictions related to the coronavirus pandemic caused air travel in Southeast Asia to collapse over the last two years. Vaccination drives, however, have allowed the gradual withdrawal of onerous restrictions, facilitating a reboot in traffic.