Recently appointed Ethiopian Airlines chief executive Mesfin Tasew has embraced the 'Vision 2035' roadmap introduced by his predecessor Tewolde GebreMariam in 2019, as he aims to keep the carrier on an aggressive growth path.
Speaking during July's Farnborough air show, Tasew says the roadmap is "tailored around fast, profitable, sustainable growth" and will involve a near-doubling of the carrier's current fleet – covering both passenger and cargo aircraft.
"Today, Ethiopian Airlines operates around 135 aircraft and by 2035 we would like to expand this fleet to more than 250 aircraft," he states.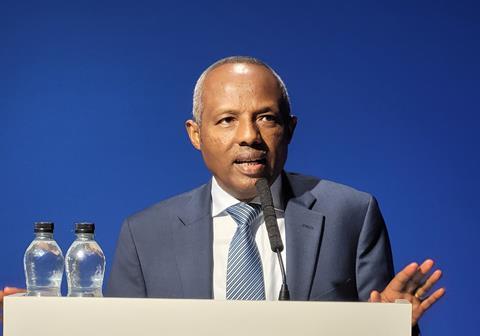 The Addis Ababa-based operator has 35 aircraft on order, meaning it will need to place significant orders for "more latest-technology, highly efficient aircraft" in the coming years, Tasew says.
The currently on-order aircraft include 22 Boeing 737 Max jets – Ethiopian having finally brought its four examples back into service earlier this year. By early August, it had taken delivery of three further Max aircraft, bringing its fleet to seven, and it expects to receive the remaining 22 over the next four years, Tasew states.
"When we reintroduced them, customers did not notice that they were flying on the 737 Max," Tasew says of the passenger response to the type returning following the fatal crash of an Ethiopian example in 2019.
"The reliability of the aircraft has been very good," he adds of the type's few months back in service.
Of Ethiopian's other outstanding aircraft orders, four of six Airbus A350s have now been upgraded from the -900 to -1000 variant, while it also has two Boeing 787-9s to come, and five 777 freighters.
Indeed, freighters are big part of Tasew's thinking as he adopts a "grand cargo expansion" strategy as part of the 2035 roadmap.
In August, Tasew says, Ethiopian will be adding its first Boeing 767-300 freighter, which it has converted at its own facility, augmenting a cargo fleet that currently features nine 777Fs and four converted 737 freighters.
"We plan to convert two more 767 aircraft and add them to our cargo operation," he states.
At Farnborough, meanwhile, Ethiopian signed a tentative agreement to purchase two Dash 8-400 freighter conversion kits from De Havilland Canada, while Tasew says Ethiopian "plans to acquire more 737 freighter aircraft".
It is also weighing up its options regarding larger freighters.
Despite signing a memorandum of understanding for five Boeing 777-8 freighters in March, Tasew says the carrier is still "evaluating new-generation cargo aircraft, particularly the 777X freighter in comparison with the A350 freighter".
Beyond fleet investments, Ethiopian's Vision 2035 strategy also involves "investments in infrastructure in the areas of MRO and airport facilities", Tasew says, noting that Ethiopian manages its own Addis Ababa hub.
Furthermore, "we will have major development strategies in the areas of human resource and systems", he says, adding that Ethiopian "recently added sustainability as part of our pillars to support our growth".
Equity partnerships will also continue to be important, Tasew says,
"We would like to assist small African airlines to develop and to grow," he states, citing the carrier's recently announced tie-up with the government of the Democratic Republic of Congo to launch Air Congo, in which it will hold a 49% stake.
Aside from that April announcement, Ethiopian also has a stake in the recently launched Zambia Airways and a longer-standing interest in Malawi Airlines.
But Togo-based ASKY Airlines remains the largest airline in which Ethiopian has an equity interest.
Leading that carrier was Tasew's previous job – and it is a business he is particularly proud of.
"This airline has been growing to become… the biggest airline in west and central Africa," he says. "Even last year, in 2021, it made a remarkable profit when most of the industry was making heavy losses."