Thai low-cost operator Nok Air narrowed its 2021 loss, helped by a revenue gain from debt restructuring, as well as recovery in domestic air travel demand in the second half of the year.
For the year to 31 December 2021, the airline posted a pre-tax loss of around Bt1.4 billion ($37 million), significantly narrowing the record Bt7.4 billion loss in 2020, when the airline was hit by a collapse in travel demand from the pandemic.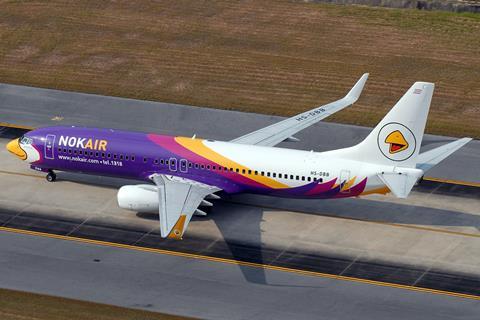 Full-year revenue dipped just 5.6% against 2020, to Bt6.4 billion. While passenger and services revenues fell year on year, the airline took a significant revenue gain, at around Bt4 billion, from debt restructuring.
Nok Air, which is undergoing debt restructuring, blames domestic travel restrictions – imposed for most of 2021 – for a drop in passenger revenues, which tumbled 67% year on year.
The airline notes that its operating hub of Bangkok Don Mueang and Suvarnabhumi airports were shut off to regular passenger transportation in July as part of pandemic restrictions, forcing the airline to shift some operations to U-tapao airport near Pattaya.
"However, after the government eased the travel limitations in the fourth quarter of 2021, passenger demand for travel increased. The company then decided to increase flight frequencies and routes," says Nok Air.
Its 2021 traffic results reflect the challenging operating environment: passenger numbers plunged nearly 70% to just 1.3 million, with capacity falling by 67%.
Nok Air reported a 52% decrease in full-year expenses to Bt7.8 billion, led by significant reductions in impairment costs and credit losses.
It ended the year with Bt1 billion in cash and cash equivalents, slightly lower than the Bt1.4 billion at the start of the year.
On its ongoing business rehabilitation, for which it gained court approval in September 2021, Nok Air says it is continuing work to turn the business around, and has implemented a series of measures.
To increase revenue, the airline is looking at alternative streams, including cargo. On cost management, Nok Air's plans include managing aircraft costs, as well as improving company work processes to bring down its expenses.