Troubled Thai low-cost carrier Nok Air narrowed its half-year operating loss, as a decline in revenue outpaced a fall in costs.
The carrier, which is in the middle of a court-led business rehabilitation process, posted an operating loss of Bt2.72 billion ($81 million) for the six months to 30 June.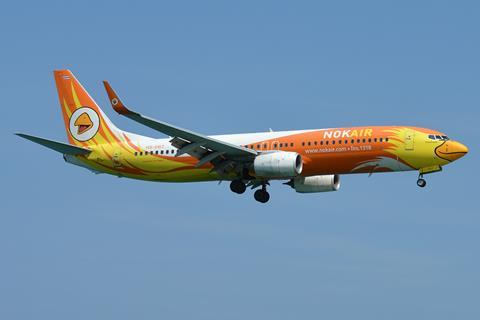 This compares to the record Bt3.75 billion operating loss it made in the first half of 2020.
Among other factors, the carrier cites the third wave of coronavirus infections in Thailand in April — the country's worst to date — for the poorer showing.
Revenue for the half-year fell 64% to Bt1.2 billion. Passenger revenue plunged 63% year on year to just over Bt1 billion, amid domestic travel restrictions imposed to control the spread of the coronavirus.
Consequently, Nok saw a 68% drop in passenger numbers to 670,000. Traffic plummeted about 71% year on year, while capacity fell 61%.
Meanwhile, costs fell 27.8% year on year to Bt3.9 billion, as administrative and transportation-related costs shrank amid reduced operations.
However, financial costs, as well as expected credit losses, ballooned, as a result of interest incurred from loans.
As of 30 June, Nok had Bt968 million in cash and cash equivalents, compared to the Bt1.4 billion it started the year with.
The carrier in its financial results also outlined steps taken as part of business rehabilitation, including optimising its workforce, reducing its leasing costs, as well as negotiating for payment deferrals.