Thai budget carrier Nok Air narrowed its losses in the second quarter despite the impact of the Covid-19 pandemic, though overall losses for the first half of the year were significantly higher than the year-ago period.
Apart from Covid-19, other factors that contributed to its first-half performance include greater foreign exchange losses due to new accounting standards in place since the start of the year, as well as the liquidiation of joint venture NokScoot, the carrier said in a 31 August filing to the Stock Exchange of Thailand.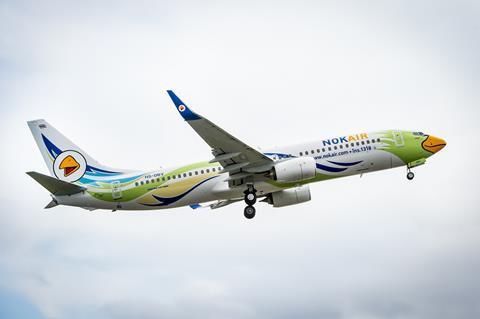 Second-quarter revenues were down 48.9% year-on-year to Bt1.54 billion, while first-half revenues were down 48% to Bt3.37 billion.
Total expenses in the second quarter were down 59.4% to Bt1.48 billion, while first-half expenses were down 26.5% to Bt5.43 billion, partly as a result of reduced flight operations and cheaper fuel. The company's fuel cost was 56.7% down to Bt920 million in the first half.
The airline reported a loss of Bt782 million ($25.2 million) for the three months ended 30 June, compared with a loss of Bt919 million for the same period in 2019. Losses in the first half of 2020 came up to Bt3.75 billion, compared with Bt1.31 billion in the year-ago period.
ASKs were cut 78% in the second quarter, and first-half ASKs reduced by 44.6%. Second-quarter RPKs were down by 80% and first-half RPKs were 50.3% lower.
Nok Air carried just 440,000 passengers in the second quarter, a 78.2% drop on the corresponding quarter. Passenger numbers in the first-half were lower by 50.7% to 2.1 million.
The airline ended the second quarter with a fleet of 22 aircraft, including 14 Boeing 737-800s and eight Q400 NextGen turboprops. Average aircraft utilisation hours were down 77.4% in the second quarter to just 2.17 hours, and 42.7% lower in the first half to 5.64 hours.
As at 30 June, Nok Air had Bt1.1 billion in cash and cash equivalents, down by Bt134 million from 30 December 2019, it says.