Nok Air has been granted a second and final one-month extension, until 15 May, to submit its rehabilitation plan.
"The Central Bankruptcy Court has considered and issued a further order approving the extension of the submission period of the rehabilitation plan to 15 May 2021, which is the last extension of time as permitted by law," the airline said in a 12 April disclosure to the Stock Exchange of Thailand.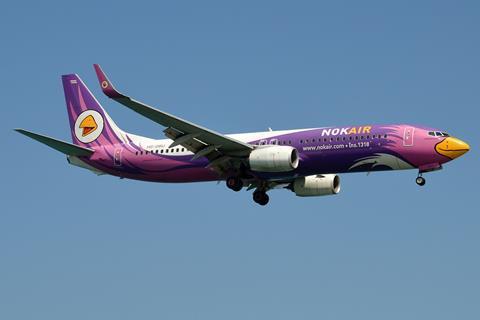 The airline requested the extension on 7 April, in accordance with Thailand's Bankruptcy Act.
Nok says it requires more information for the draft rehabilitation amendment to "prepare a complete and comprehensive rehabilitation plan", one that is appropriate for its airline business amid the Covid-19 pandemic and will receive creditors' approval.
It adds that the rehabilitation plan "contains several important aspects which required the consideration and suggestions from several relevant parties".
Once the plan has been submitted, the official receiver is due to hold a creditors' meeting to consider the rehabilitation plan.
If it is satisfied with the plan, the Central Bankruptcy Court will approve it and appoint plan administrators. Nok Air will then proceed to implement the rehabilitation plan and provide updates on its progress.
The Central Bankruptcy Court accepted Nok's application for business rehabilitation on 30 July 2020 and approved Nok for the process on 4 November, appointing the airline's chief executive Wutthiphum Jurangkool – plus four other individuals, and Grant Thornton Special Advisory Services – to prepare the restructuring plan. They were given a three-month deadline from 15 December to submit the plan by 15 March.