Norwegian start-up carrier Flyr has edged closer to commencing flights with the arrival of its first aircraft, as it takes a sly swipe at Scandinavian rivals over the outsourcing of crews and licensing.
The airline's initial Boeing 737-800 – a 2013 airframe, serial number 40014 – has been transferred to Oslo, ahead of the carrier's initial service to Tromso scheduled for 30 June.
Flyr opened advanced sales of tickets at the end of May and the carrier says this has been "well-received".
"Advance sales testify to great interest," says chief executive Tonje Wikstrom Frislid, claiming that customers have described the booking technology – part of Flyr's proposition – as "simple and intuitive".
Passengers are able to book domestic flights to Trondheim, Bergen, Bodo and Harstad as well as the Mediterranean resorts of Nice, Alicante and Malaga.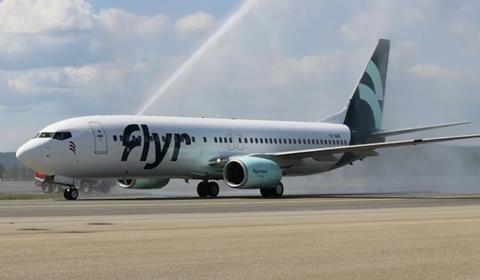 Prior to the aircraft's arrival the airline reached a collective agreement with its pilots, represented by cockpit association Norsk Flygerforbund.
Wikstrom Frislid says the company aims to "counteract" a trend of "extensive" outsourcing including the use of operating licenses and staffing in lower-cost countries outside of Scandinavia.
She says such practices have "become the new normal in aviation" and "support the Norwegian model".
Both local budget rival Norwegian and the Scandinavian flag-carrier SAS adopted strategies involving the establishment of operations outside of their home countries – notably in Ireland.
"We believe it is possible to operate an airline in Norway based on modern technology, smart and simple solutions, with highly competent colleagues employed locally," says Wikstrom Frislid.
She says a strong co-operation with unions is "crucial" to achieving this and that Flyr has established an open and transparent relationship with the cockpit association.
"Unfortunately, the development of our industry has been characterised for far too long by actors who challenge the responsibility of well-functioning aviation," claims Norsk Flygerforbund leader Capt Yngve Carlsen, a long-haul pilot with SAS.
"With a stated ambition to strengthen the Norwegian model and innovation that also focuses on human values, Flyr represents a breath of fresh air that we value.
"Competition in aviation will continue to be fierce, and the right balance between competitiveness and social values is always demanding. An organised working life based on the Norwegian model and a trust-based collaboration is therefore the way to go."