Norwegian is to furlough an additional 1,600 staff and park 15 of its 21 operational aircraft, blaming a lack of additional government support and the added burden of new travel restrictions for the cutbacks.
The carrier had earlier today criticised the country's government for its failure to further extend help through the coronavirus crisis and warned of a "very uncertain future" as a result.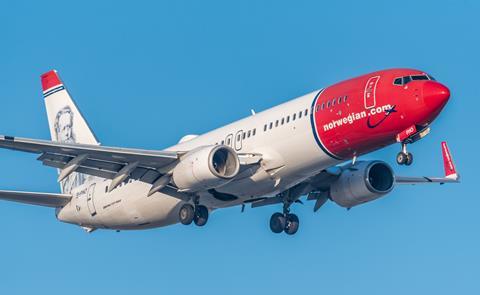 "Following today's disappointing announcement from the government, we have no choice but to furlough an additional 1,600 colleagues and park 15 of the 21 aircraft we've operated [for] the past months," says chief executive Jacob Schram.
"Recently government-imposed travel restrictions have effectively stifled any hope of a stable and progressive recovery, Norwegian has been hit from all sides by factors outside of our control."
Schram says there is "no alternative" to the downsizing, which will see it operate with a skeleton staff of just 600, compared with 10,000 prior to the crisis. It will maintain six aircraft on domestic routes, all but one of which operate from the capital.
Norway's government has recommended that individuals hold back from domestic travel to prevent the spread of the coronavirus. It says it has already provided NKr13 billion ($1.4 billion) to the country's aviation sector this year.