Asia-Pacific governments have slowed the pace of the region's air travel reopening, as they contemplate the risks associated with the Omicron variant of Covid-19.
Singapore will effectively scale back its Vaccinated Travel Lane (VTL) programme, whereby vaccinated travellers from certain countries need not serve quarantine, says the Civil Aviation Authority of Singapore (CAAS).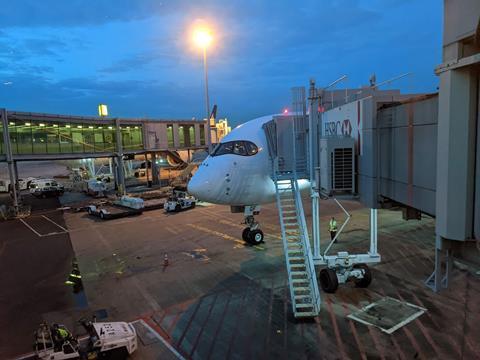 From 23 December to 21 January 2022, no new ticket sales will be allowed on VTL flights for entry into Singapore. For entries beyond this, quotas of VTL passengers will be halved.
Passengers holding tickets on VTL flights can still fly to the city state, however.
"Given the rapid spread of the Omicron variant overseas, the [CAAS] will take proactive and pre-emptive steps to manage the inflow of [VTL] travellers and mitigate the risk to the Singapore community, while we observe and assess the emerging situation," says the agency.
The move adds to measures already adopted by the city state. When Omicron first emerged, Singapore paused the opening of new VTL routes. In addition, arriving VTL passengers were subjected to a more rigorous post-arrival test regime.
Separately, Thailand has suspended applications for its Thailand Pass and Sandbox programmes, which allowed for vaccinated travellers to visit the Southeast Asian country.
Those who have already obtained a Thailand Pass can still travel to the kingdom, but they will be subject to a more rigorous testing regime.
The Phuket Sandbox for vaccinated travellers is, however, excluded from this decision.
Omicron concerns have also prompted New Zealand to push back the start of its phased border reopening until the end of February 2022. Moreover, quarantine durations for arriving passengers have been increased to ten days, with no option for self-isolation.
"COVID-19 keeps throwing new curve balls and we have to respond in a way that continues to protect lives and livelihoods without putting in place restrictions and lockdowns unless absolutely necessary," says a government statement.
"Waiting till the end of February will increase New Zealand's overall protection and slow Omicron's eventual spread."
For most of the coronavirus pandemic, New Zealand maintained a strict "zero-covid" stance, but vaccinations have allowed it to move away from this stance.
Tokyo will also extend its tight entry rules into 2022. Travellers from most major countries are subject to an outright entry ban, and mandatory quarantines will continue for those allowed to enter the country.
Other countries have already taken action over Omicron concerns. In early December, India halted plans to re-allow scheduled commercial flights into the country indefinitely,
The various announcements will be a setback for the region's airlines, which have banked on vaccinations driving a resumption of international travel.