Cathay Pacific will operate a "skeleton" passenger flight schedule in January and cut back on capacity further in the first quarter of the year, amid a tightening of quarantine restrictions meant to tackle a growing wave of infections caused by the Omicron variant of the coronavirus.
The carrier in a brief statement dated 30 December says that Hong Kong's tightening of the restrictions for air crew — among the toughest in the world — "continues to constrain our ability to operate flights as planned".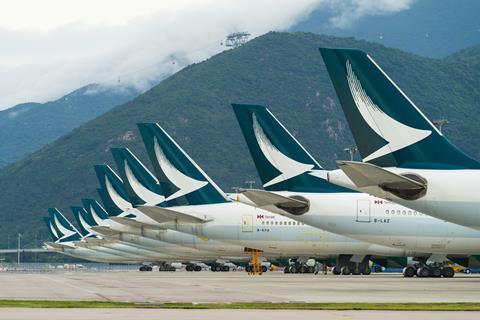 "We are making further significant changes to our flight schedule, including cancellations of passenger flights to and from Hong Kong from now to tentatively the first quarter of 2022. We intend to operate a skeleton passenger flight schedule in January," Cathay adds.
It did not elaborate on how many flights will be cancelled.
Hong Kong has a strict 'zero-Covid' strategy in line with Mainland China — one of the last remaining places to maintain such a policy even as other countries reopen borders.
On 5 January, the Hong Kong government tightened measures further — amid fears of a fifth wave of infections — including banning flights from Australia, Canada, France, India, Pakistan, Philippines, Britain and the United States for nearly two weeks.
The Omicron wave is just the latest blow to hit Cathay, which has on previous occasions warned that tightened measures have caused "operational constraints". Already the carrier has warned of a "substantial" full-year loss for 2021.
In December, it adjusted its year-end schedules to operate at only 12% of pre-pandemic levels. It added then that it would "closely monitor developments" while reviewing schedules for the start of 2022.
In an analyst briefing in December, Cathay chief customer and commercial officer Ronald Lam acknowledged that the carrier was "lagging behind" its regional rivals, as a result of Hong Kong's onerous restrictions.