Australia's competition watchdog has warned that operational challenges – including delays and flight cancellations – are likely to be around until after the end of the year, as it notes the domestic airline sector "has not been well-placed" to handle the spike in travel demand.
In its quarterly domestic airline competition review, the Australian Competition and Consumer Commission (ACCC) says that while "the worst of the problems" are likely to be past the airline sector, it will take time for performance to improve.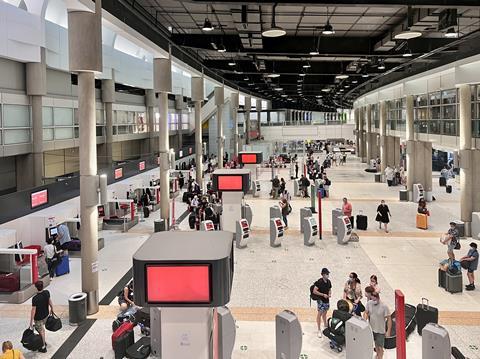 It notes that the well-publicised challenges in recent months are a result of several factors, including a reduced workforce, as well as "temporary staff absences from Covid-19 and other illnesses".
Flight cancellations and on-time performance hit the worst levels on record, notes the commission. Data from July shows 6.4% of all scheduled flights were cancellations – more than thriple the long-term cancellation rate of 2.1%.
While the rate is significantly lower than cancellations following lockdowns, the commission states that with more passengers travelling, the number of affected customers is expected to rise with recent cancellations.
Among the domestic carriers, the ACCC says Jetstar cancelled the most flights in July, at around 8.8%. In contrast, rival Regional Express (Rex) had the lowest cancellations, at 2.1%.
Only 55% of all scheduled flights in July arrived on time, far lower than the average of 81.9%.
The commission notes again that Rex was the best on-time performer in July, with around 68% of flights arriving on time, though this was the carrier's worst on-time result on record.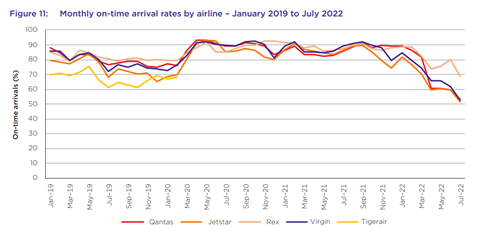 Jetstar, which lost market share in July, was the worst on-time performer in the month, with barely over half of its flights arriving on time.
Says the ACCC: "The increase in cancellations, delays and missing bags shows that the aviation industry has struggled to meet the level of demand. The reasons for this are varied and affect all aspects of the industry, including airlines, ground handlers, airport security and air traffic controllers."
It will take the Australian airline industry "well into 2023" before workforce numbers are "where they need to be", adds the commission, noting that recruitment – as well as the threat of industrial action on issues like pay and conditions – will be a key challenge.
"In this environment, reliability and good customer service may become growing points of competition between the airlines. An airline that schedules a realistic number of flights based on their level of staffing, has a well-resourced call centre, and transparent and fair compensation policies on their website, has the opportunity to win new customers," states the ACCC.