There is opportunity in every crisis and the Covid-19 pandemic could present one for some of Australia's regional airlines to expand.
The grounding of airline fleets globally "presents significant opportunities for Alliance [Aviation] to expand its fleet" and it is looking to raise a target A$122 million ($85 million) for expansion, it said on 11 June.
Meanwhile, Rex confirmed on 29 June it will proceed with plans to commence domestic operations in March and targets to raise at least A$30 million. Earlier, deputy chairman John Sharp said in May the regional operator could likely acquire aircraft at competitive prices given the current parked and idle fleet, and needs an estimated A$200 million.
FLEET COMMONALITY
Cirium fleets data show that Alliance and Rex each operate a uniform fleet of aircraft averaging well over 20 years of age.
Alliance Airlines owns most of its all-Fokker fleet, which comprises 29 F100s, 17 F70s and five F50s, 24 to 31 years old. Rex has 57 Saab 340s in its in-service and stored fleet, 23 to 31 years old, all owned by the operator or related entities.
Both aircraft types are no longer in production, while their OEMs have exited the commercial aircraft market.
"A downturn like this could be a good opportunity to renew their fleets with newer generation aircraft acquired at a discount, but it's not so simple," says Thomas Kaplan, senior valuations analyst at Ascend by Cirium.
"Values have not come down so much yet as sellers prefer to hold on to their assets before selling at a loss – better deals will be available through distressed sellers."
Some aircraft types do not have direct replacements, the Saab 340 being one such example, so fleet renewal would involve changes to the size of the aircraft. Replacing entire fleets, especially when it involves a change of OEM, means big changes in terms of the technical management of the aircraft, says Kaplan.
"And these airlines have to be sure they can buy in large enough quantities to make the replacement complete to ensure they maintain a fleet commonality as they enjoy now."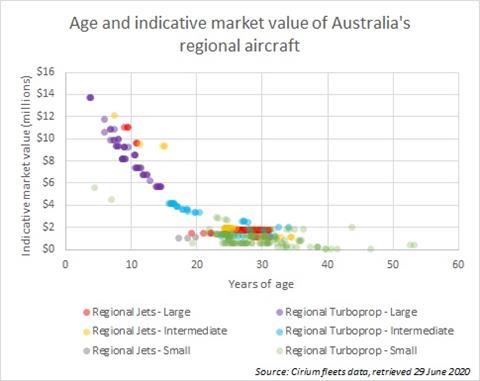 EXPANSION OPPORTUNITIES
Alliance indicates it will pursue expanded opportunities in existing sectors and with clients that were not long-term customers before Covid-19, hinting that its fleet will largely stay the same
"The capacity, range, aerodrome accessibility and other features of Alliance's aircraft continue to be of importance to Alliance's existing customers, as they provide an optimum combination of features for regional services," it says.
"Alliance also considers that these features are likely to be valuable to prospective customers, particularly because 100- and 80-seat jet aircraft are the ideal aircraft size for prospective customers wishing to launch new regional services."
Tracking in the opposite direction is Rex, which suggests in its latest plans it is gravitating towards ATR 42s and 72s, with an eye on grabbing market share from Virgin Australia.
The operator also states that it will work with ATR on leaseback opportunities for its Saab 340s to "free the equity tied with its current fleet".
Sharp, Rex's deputy chairman, said on 29 June: "Leveraging on Rex's existing infrastructure and overheads, our cost base for the domestic operation is estimated to be at least 35% below Virgin's Australia's (pre-Covid-19) with 50% lower additional headcount needed proportionately.
"Rex's domestic operations will be priced at affordable levels but will also include baggage allowance, meals on board and pre-assigned seating… It will be a hybrid model that Rex has so successfully pioneered over the last two decades for its regional operations."
DEMAND IS KEY
Funding is always a consideration in network expansion, more so in the current environment, but demand is key, says Matthew Findlay, director at Ailevon Pacific Aviation Consulting (APAC).
"If there is demand, either not being met from existing supply (in the way of existing air services), or can be from stimulated demand, Australia's regional airlines will look to fly between new regional points. Regionally, stimulation often comes due to inherent business opportunities emerging or specific routes being targeted with the right size of aircraft, routing or frequency."
But that alone may not be enough, as Australia's regional routes have yet to reach the market scale that allows operators to compete while ensuring profitability and viability.
This can be gleaned from Jetstar Airways' withdrawal from regional flying in New Zealand, before the Covid-19 pandemic in November 2019. From December 2015, the carrier marketed five routes – one from Wellington and four from Auckland – operated with De Havilland Canada Dash 8-300 turboprops.
Before Jetstar's entry, routes marketed by Air New Zealand accounted for over 99% of available seat capacity in 2014, while a handful of local operators split the rest of the market, Cirium schedules data show. Though Jetstar achieved up to an 8.25% share in 2016, that hardly dented Air New Zealand's 88.7% share in the same period.
The data also show Air New Zealand deployed a mix of Dash 8-300s and ATR-72s, as well as Beech 1900D Airliners that were phased out after 2016. This could have given Air New Zealand greater flexibility to adjust capacity.
"We have given it a real go," Jetstar said in September 2019. "However, despite four years of hard work, including becoming the most on-time of the two major regional airlines and having high customer satisfaction, our regional network continues to be loss-making."
COMPETITIVE SPACE
There are early signs that competition is heating up. A day after Qantas Group announced on 4 June its domestic schedule for June and July, Rex retaliated with an expanded schedule in "Qantas-competitive ports", commencing a month out.
APAC's Findlay does not expect air fares of regional routes to go down dramatically, due to the high operating costs for regional airlines, aircraft, as well as the elasticity of demand. Airlines would also be a lot more cautious post-Covid-19 as each operator needs to rebuild cash flow and its financial sustainability.
Air transportation is the most efficient means to allow many different services to reach across a vast nation like Australia, some in remote locations. This defines the competitive space, where operators tend to serve a specialised market, and wet lease as well as marketing and distribution agreements between larger airlines and numerous independent operators are prevalent.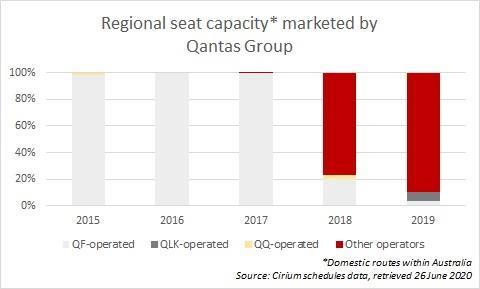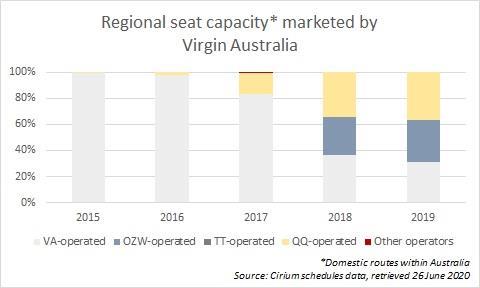 "Charter services allow carefully planned rotations or specific flying needs to be met," says Findlay.
"In today's environment where employers want to develop workforces with the right skills to be attracted to vocations in some remote locations, making it easy for staff to get from A to B may mean a charter is required, or new city regional pairs are created to better serve an end user."
How fast operators can scale up will also depend on the deployment of crew and equipment into target markets. There is availability given the recent demand decline, but there are technical and operational challenges to switching aircraft types and training new crew, says Ascend's Kaplan.
"Importing crew into Australia may be more difficult than usual now due to travel restrictions and quarantines."
NEW GROWTH PHASES
Rex appears to have tied its plans to Virgin Australia's fortunes, and that is a fluid situation in such uncertain times.
When asked about the feasibility of Rex's expansion plans, Sharp said on an ABC Radio National programme on 12 May: "A number of people have expressed the belief that it's going to be very difficult for Virgin to rise from the ashes, given the very heavy cost burden that it carries, the very heavy debt that it carries. And the very high wages that the various enterprise bargains, agreements, impose on the new prospective owners that might take over Virgin."
Six weeks on, Virgin Australia announced US private investment firm Bain Capital as its final bidder, which on 26 June was close to completing the sale which is "subject to minimal conditions precedent".
"Expanding into more domestic routes made more sense when Virgin Australia [seemed like it] was about to fold," says Ascend's Kaplan. "But now that it appears Virgin Australia will survive, the domestic market in Australia will be quite competitive. A focus on fleet renewal rather than expansion may be more prudent."
APAC's Findlay opines that some of Australia's airlines may be able to take advantage of the current situation to prepare for new phases of growth.
"Certainly Rex's recent announcement to secure additional funding suggests a move into a larger aircraft type, including narrowbody jets, and ATRs. The additional funding and added aircraft types could further bolster its regional network where it makes sense, and serve highly lucrative key state capitals.
"There are other competitors (e.g. Cobham Aviation, Airnorth etc.), that have existing relationships with Qantas and Virgin that have provided some scalability for the larger carriers, however each have tended to have their own niche, which has allowed many of them to successfully grow over time."
The Boeing 737 could also be an aircraft type either Rex or Alliance could eventually include in their fleet, Findlay says, adding that there will be demand in the Australian domestic market that could be better served by the aircraft type.
"The 737 has been commercially successful for many airlines, and some 737 fleet groundings due to a lack of demand in some parts of the world, may allow an airline to acquire aircraft to serve their markets."
Analysis by Simin Ngai of Cirium